Doosan Infracore makes first shipment of K-21 infantry combat armed vehicles
Category: Defence Industry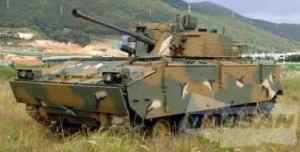 The K-21, the world`s strongest infantry armed vehicle developed and produced with Korean technology, will be deployed to field sites for operation from the end of this month.
Doosan DST (CEO: Um Hang-seok) held a ceremony to mark the first shipment of K-21 infantry combat armed vehicles, which have been mass produced for the first time, at its Changwon Plant. The event was attended by more than 100 people, including high-ranking military officers and defense suppliers.
The K-21, whose development began in late 1999 in the hope of strengthening the Korean military's combat capability, entered into mass production this year after the operation, evaluation, and testing of pilot products at field sites. Weighing in at 25 tons, the K-21 is capable of transporting three crewmen plus one platoon of mechanized infantry troops, and can travel at speeds of up to 70 km per hour on land and 7 km per hour on water.
The vehicle is equipped with a 40-mm automatic cannon and a 7.62-mm machine gun as its key weapons. When a third-generation vehicle-to-tank missile is installed at a later date, it will transform it into the strongest armed vehicle of the 21st century, capable of attacking not only an enemy's armed vehicles but also tanks and helicopters.
The K-21 is also armed with Network Centric Warfare (NCW) capability, as it is fitted with a digital command/communication system that allows it to share information on the battlefield with other combat vehicles in conjunction with a terrestrial tactical C4I system. As such, it is expected to significantly enhance the Korean military's operational capacity in future warfare environments.
The K-21 has been evaluated as superior to the M2A3 of the U.S. and the BMP-3 of Russia, which are regarded as the world's strongest combat vehicles in this category, in terms of fire power, the capacity to manage battlefields, and mobility. Doosan DST plans to actively pursue the K-21's export to the Middle East, Southeast Asia, and Latin America by banking on its excellent performance and competitive price.
CEO Um Hang-seok of Doosan DST said, "We are very proud that the K-21 infantry armed vehicle, a state-of-the-art weapon that has been developed and produced exclusively by us, will take root as the mainstay of the Korean military's combat capability. We will seek to export the K-21 to many countries around the world, and develop Doosan DST into a leading global defense supplier that is representative of Korea."
Doosan
30.11.2009

Share...




L&T Wins Largest Private Sector Defence Order for Artillery Guns
14.05.2017
Robots from South Korea, U.S. Win DARPA Finals
08.06.2015
CMI Defence and Doosan DST Present a New 120/105mm Medium Tank Concept
19.02.2013
Hyundai Rotem Deploys Concurrent ImaGen Visual Servers for K-Series Tank Platoon Simulator Program
09.02.2012
DOOSAN HEAVY INDUSTRIES & CONSTRUCTION CO., LTD.
Discuss