BAE Systems Receives Contract to Provide MCTAGS Turret Assemblies
Category: Contracts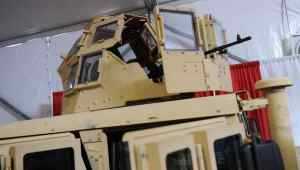 SANTA CLARA, California -- BAE Systems has received a $10.7 million delivery order to provide 1,197 Marine Corps Transparent Armored Gun Shield (MCTAGS) Turret Assemblies. The Turret Assemblies facilitate the mounting and operation of the MCTAGS, which are used to protect service members in close urban environments.
This delivery order is a modification to a previously awarded contract to provide MCTAGS Turret Assemblies, and accessory kits to the USMC over a three-year period. This modification brings the total amount awarded to date to $85 million.
"BAE Systems' MCTAGS enable direct vision, situational awareness and target acquisition for vehicle gunners, commanders, and drivers while under armor protection," said Mark Signorelli, vice president of New Vehicles and Amphibious Systems for BAE Systems. "To date, more than 6,000 MCTAGS kits have been installed on various military vehicles to provide added protection for the men and women in uniform."
The MCTAGS kits are compatible with various gun mounts and protection is provided from direct small arms fire and IED fragments. Both products are installed at the unit level and use existing mounting provisions.
Work under the delivery order will begin immediately at BAE Systems facilities in York, Pennsylvania, Santa Clara, California and Fairfield, Ohio and is expected to be complete in June 2010. The contract is managed by the Marine Corps Systems Command (MARCORSYSCOM).
BAE Systems' TAGS units have been configured for a wide range of vehicles, including Bradley, M1 Abrams, M113, HMMWV, Medium Tactical Vehicle Replacement, Logistics Vehicle System, Assault Amphibious Vehicle - Personnel and for the Stryker Common Ballistic Shield.
About BAE Systems
BAE Systems is the premier global defense, security and aerospace company delivering a full range of products and services for air, land and naval forces, as well as advanced electronics, security, information technology solutions and customer support services. With approximately 105,000 employees worldwide, BAE Systems' sales exceeded £18.5 billion (US $34.4 billion) in 2008.
BAE Systems
11.02.2010

Share...




TEMPORARY COMPANY GROUPING EBMR MEETS ITS DELIVERY OBJECTIVES FOR 2019
14.01.2020
BAE Systems` CV90 increases lethality by testing SPIKE LR anti-tank guided missile
14.01.2020
U.S. Marine Corps orders more Amphibious Combat Vehicles
11.11.2019
Rheinmetall to Feature Next Generation 130mm Tank Gun at AUSA Global
04.11.2019
BAE Systems Land Systems Hagglunds AB
BAE SYSTEMS Advanced Technology Centre
BAE SYSTEMS Customer Solutions & Support Land & Sea
BAE SYSTEMS Operational Training
BAE SYSTEMS RO Defence Small Arms Ammunition Division
BAE Systems North America, Land & Information Systems
AS90 Universal Turret (Turret for the self-propelled artillery system)
Discuss