Armor Holdings, Inc. Receives $95.6 Million Up-Armored HMMWV Order
Category: Contracts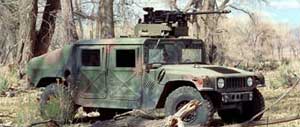 JACKSONVILLE, Fla. -- Armor Holdings, Inc., a leading manufacturer and distributor of security products and vehicle armor systems serving law enforcement, military, homeland security and commercial markets, announced today that it has received a $95.6 million contract award form the U.S. Army Tank-automotive and Armaments Command to provide additional M1114 Up-Armored HMMWVs.

The company indicated that the majority of the Up-Armored HMMWVs will be delivered to the U.S. Army with quantities also purchased for the U.S. Marine Corps, the U.S. Air Force, and two international customers through the Department of Defense Foreign Military Sales program.
Work will be completed in 2005 and early 2006 by Armor Holdings` Aerospace and Defense Group facilities located in Fairfield, Ohio. The company also stated that it will provide an update to previously provided fiscal year 2005 financial guidance during its July second quarter conference call. Robert Schiller, President of Armor Holdings, Inc., said, "We continue to support the Army`s Tank-automotive and Armaments Command as the U.S. Army acts as the executive agent for HMMWV armoring programs to all of the U.S. Armed Services and international military partners.
It is truly an honor to serve our Nation`s needs and we pledge to continue to do all that we can on behalf of our men and women in harm`s way."
Armor Hodlings
16.06.2005

Share...




U.S. Army Awards AM General $51.3 Million Contract For High Mobility Multipurpose Wheeled Vehicles
07.10.2018
AM General Awarded 5-Year Requirements Contract For Up To 2,800 M997A3 HMMWV Ambulances
07.10.2018
U.S. Army Places $100.1 Million Order For 258 Joint Light Tactical Vehicles
23.12.2017
Hawkeye lightweight SPH from Mandus Group will take part in MFIX
30.11.2017
M997 HMMWV (Ambulance vehicle)
M996 HMMWV (Ambulance vehicle)
M1025 HMMWV (Tactical vehicle)
M1026 HMMWV (Tactical vehicle)
M1035 HMMWV (Ambulance vehicle)
M1038 HMMWV (Tactical vehicle)
M997A3 HMMWV (Ambulance vehicle)
HMMWV/Hawkeye 105 (Self-propelled howitzer)
Discuss