Hatehof to Announce Launch of NBC Division at Eurosatory
Category: Exhibitions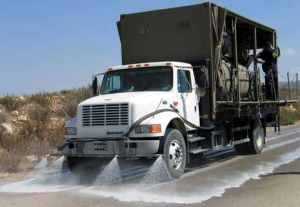 Israel -- Hatehof, a research, development, and production stalwart of armored vehicles for combat and terror threats, announces its new NBC (Nuclear, Biological, Chemical) division at this year's Eurosatory.
Following extensive research and development efforts, the company's new array of NBC vehicles and their accessories complement, now offers a comprehensive solution capable of handling an unconventional incident. The range of systems can be seen at Hatehof booth located Outdoors PE 6B stand F201.
"Hatehof can now provide an effective response to new and emerging threats from weapons of mass destruction," says Shimon Shacham, Hatehof's CEO. He goes on to explain, "The proven Girit decontamination vehicle, in use by the IDF, has been around for years. Now, following an exhaustive development process, we boast a range of definitive and complete solutions to counter NBC threats. We've been studying the NBC field for some time and our resulting philosophy is a tripartite answer to unconventional incidents. Three types of fully encased vehicles, command and control, chemical reconnaissance, and decontamination offer customization benefits that only the vehicle's designer can claim."
With the command and control vehicle, a team is dispatched to an incident's location to manage the scene. Hatehof's Wolf type vehicle incorporates a hermetically sealed hyperbaric chamber with systems for incident location designation and advanced communications, to name a few. The chemical recon vehicle is responsible for detecting and identifying chemical contamination sources. A Sniffer type vehicle based on the Wolf provides maximum protection for the crew. It is armored, has a cased and sealed hyperbaric chamber container, and off-road capability. This configuration offers air and ground sampling equipment with a sterile cell for the samples, advanced communications, systems for imaging and data transmission to the command and control team, and a host of accessories for crew protection.
The decontamination configuration will be presented at Hatehof's booth onboard a Girit type vehicle. It functions, however, as an independent container that can be installed onboard a flatbed truck in emergencies. This type of deployment frees the trucks to function as intended at all other times. The container configuration offers the added advantage of operating as a stand alone unit, independent of a vehicle altogether, when decontaminating a stationary source. Hatehof's decontamination unit includes a water tank, a specialized elevator for loading decontamination materials, a purpose built system for mixing water and decontamination chemicals, and a decontamination hoses system up to heights of 50 meters. Additional benefits offered by the system include decontamination in high elevations, along traffic arteries, and for population decontamination.
Hatehof
09.06.2010

Share...




Hatehof Unveils Zibar Ultra-High Mobility Special Operations Vehicle at Eurosatory
14.06.2010
RAFAEL supplies armored WOLVES to the IDF
05.04.2005
Discuss