Royal Marines are first to use new Sharpshooter rifle in Helmand
Category: Army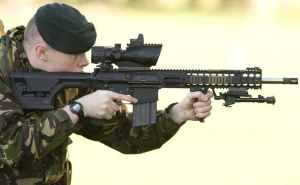 The first new infantry combat rifle to be issued to troops for more than 20 years has arrived in Afghanistan and is being used by Royal Marines from 40 Commando.
The Sharpshooter rifle fires a 7.62mm round and enhances accuracy of engagement during longer-range firefights.
The Sharpshooter's considerable range takes it into the realm of sniper territory, but it requires far less training, being more similar to the standard service rifle than the highly-specialised weapons used by those in the sniper profession:
Royal Marine Sergeant Baz Evans of 40 Commando said:
"I have fired over 1,000 rounds on the rifle in training; accurately hitting targets over 800 metres away. The new Sharpshooter rifle provides quick and accurate fire, with the flexibility of using it in the assault rifle role as well. It's hoofing."
More than 400 of the semi-automatic L129A1 Sharpshooter rifles have been bought as an Urgent Operational Requirement.
The Sharpshooter complements the already potent range of weapons used by our forces in Afghanistan, which includes:
SA80 A2 assault rifles, which fire 5.56mm rounds
Light Machine Guns, which fire 5.56mm rounds
General Purpose Machine Guns, which fire 7.62mm bullets
the Combat Shotgun, which fires 12-gauge shells
the Sniper System, which fires 8.59mm bullets
the Javelin Weapons System - the integrated fire-and-forget missile system
See 'Operations in Afghanistan: UK military equipment' at Related Links.
Colonel Peter Warden, Light Weapons, Photographic and Batteries Team Leader at Defence Equipment and Support, said:
"The Sharpshooter rifle is very capable and has been bought to fulfil a specific role on the front line in Afghanistan. It is a versatile weapon which will give our units a new dimension to their armoury. It will complement the SA80 A2 by adding to the weapons available to commanders on the ground. The Sharpshooter's capabilities are also complementary to the current Sniper System."
UK MoD
13.06.2010

Share...




U.S. Marine Corps orders more Amphibious Combat Vehicles
11.11.2019
IVECO DEFENCE VEHICLES AWARDED CONTRACT TO DELIVER A NEW GENERATION OF MEDIUM MULTIROLE PROTECTED
24.09.2019
U.S. Army Places $484 Million Order For 1,574 oint Light Tactical Vehicles
02.07.2018
BAE Systems team wins U.S. Marine Corpsí Amphibious Combat Vehicle competition
20.06.2018
AMX-10P Marines (Infantry fighting vehicle)
Discuss