Riley Selected for DARPA Armor Challenge
Category: Future Technologies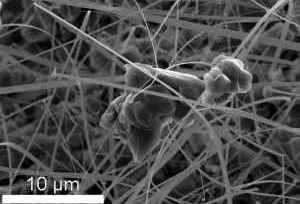 HOUSTON -- A new hybrid armor will undergo the most demanding and stringent testing by the Defense Advanced Research Program Agency (DARPA) in Ballston, VA in the fall of 2010. After passing selection, this armor will be able to provide U.S. military and law enforcement personnel serving at home or around the world with a better, lighter, and more cost effective protective solution than has ever been deployed before.
Riley Solutions Inc. (RSI) of Houston, TX, in close partnership with NanoRidge Materials, Inc., is delivering a groundbreaking armor for rigorous testing against the most destructive small arms fire. The armor is a remarkable blend of the very best in conventional light-armor materials with the most advanced application of nanomaterials. This blended layering fundamentally improves the armor's resilience to impact, penetration, and thus defeats the hostile round as it strikes the new composite material.
"After several years of independent development and research at our own expense, we were honored that DARPA selected RSI for the Armor II Challenge. RSI has developed a rigorous testing and evaluation program through independent certified test laboratories; we have outstanding scientists, military and law enforcement veterans who are committed to developing the finest solutions for our war fighters and law enforcement officers. Becoming a DARPA sponsored armor company will enable RSI to participate in the Government's long term development of new nano-enhanced armor," said John Tidrow, President of RSI.
RSI is a leading armor innovator located in Houston, TX. Kyle Kissell, Ph.D, RSI's Technical Advisor, stated, "On the successful completion of the DARPA Challenge, it is expected that the company will seek significant expansion both in production and market sales with the complementary increase in employment for the county and State of Texas. RSI has a next generation armor system that excels through nanotechnology and advanced processing systems making stronger and lighter armor."
RSI was founded in 2006 and established its initial Manufacturing facilities in Houston, TX. The company produces armor products that incorporate proprietary nanotechnologies into composite structures. The Company holds multiple patents and patent applications for the enhancement of ceramic & high density polyethylene. Teamed with NanoRidge Materials, Inc. for the design and production of all nano-enhanced products the Riley Team has identified the key to efficiently exploiting nanomaterials for mechanical reinforcement. Specialized and patented processes adapt the highly versatile chemistry of carbon nanotubes, altering its natural bundles to create stronger dispersed linkages that can then be incorporated into armor composites.
RSI has defined six levels of Nano-enhancement that are possible for ballistic armor products. These will control radio frequencies and provide embedded nano-monitoring systems for health and status of an armor panel. New advancement will provide the control of temperature on aircraft applications such as de-icing as well as reducing the heat signature and size footprint of an aircraft or vehicle.
This Houston based team is already delivering a rich technology platform and its foundational IP through industry-leading expertise in product applications of nanotechnology. With its strong Board of Directors and Advisory Team, in cooperation with its seasoned management, the RSI Team is commercially poised and ready with the very best nano-enhanced armor and products. Aaron Westrick, Ph.D., Director of Armor Design, stated, "Our strategic focus is now on market growth and profitability through product sales and manufacturing. We are seeking application and product development partners among industry leaders engaged in law enforcement, commercial, and military security."
Riley Solutions
21.07.2010

Share...




Problems of Russian Vacuum APFSDS-T projectile
25.01.2019
BAE Systems awarded development contract for Mobile Protected Firepower
18.12.2018
General Dynamics Receives Delivery Order to Upgrade 100 Abrams Main Battle Tanks
31.07.2018
Bradley Driving… In Stereo
06.07.2018
Lviv Armor Vehicle Factory - LBTZ
115th Kharkiv Armor Repair Plant
141th Zhytomyr Armor Mechanical Repair Plant
346th Mykolayiv Mechanical Armor Repair Plant
Armor-Pdi Protection Development International Corp. (PDIC)
Automotive Armor Manufacturing Inc., AAM Armor Composites
COHBAT ARMOR INTERNATIONAL PTY LTD
Burhan Armor Glass International
Defense Advanced Research Projects Agency - DARPA
Armor Shield R (Explosive reactive armour)
EAAK Armor Shield P (Ballistic protection)
Phalanx Armor System (Protective screen)
Discuss