LASSO® (Land, Air & Sea Special Operations) Vehicle Brings Off-Road Operations To A New Level
Category: Defence Industry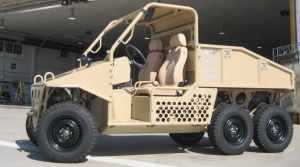 Alexandria, Virginia -- The LASSO® (Land, Air & Sea Special Operations) vehicle is the result of thousands of hours of research, engineering, design and testing by VSE Corporation.
What sets this compact, all-terrain vehicle apart is its true, full-time, six-wheel drive with a fully independent suspension, 9-inches of suspension travel, 12-inches of ground clearance and a payload capacity of 3,000 pounds--allowing for high capacity load carrying in hard-to-travel environments. 
The LASSO is designed to meet military specifications and incorporates many standard HMMWV features. Further, the LASSO was designed to fit inside tilt-rotor aircraft.  Another main focus of the LASSO vehicle design was to use as many COTS (Components Off-The- Shelf) as possible to bring down pricing while facilitating a speedy and robust design. 
"We developed the LASSO with a keen eye towards serviceability," said VSE engineer and LASSO designer John Wasylyk. "The entire power pack (engine, transmission and accessories) is mounted to a separate sub-frame that is located under the seats, and can be quickly and easily removed from the vehicle for service or replacement. A two-man team can have the entire power pack "on the floor" in an hour.  Each of the six 'corners' (wheel and suspension assemblies) also have common components such as upper a-arms, lower a-arms, toe links, knuckle assemblies, brake components and half shafts to keep parts and service costs down."   
The LASSO vehicle has been demonstrated on the SORT (Severe Off-Road Track) course at the U.S. Marine Corps Base in Quantico, Virginia where it exceeded all expectations of base personnel, and Finite Element Analysis concludes that the vehicle meets requirements for Roll-Over Protection (SAE J2194).
"We have designed the vehicle to be as compatible as possible with existing systems," said Tom Dacus, President of VSE Federal Group. "This ensures minimal new training for our warfighters, and reduces the variety of parts needed – resulting in overall cost savings for our customers. The LASSO is a 'get in and go' piece of equipment."
The LASSO vehicle's carrying capacity of 3,000 lbs makes it a unique material handling vehicle. It is also equipped with both 12v & 24v power.  This includes: (1) NATO slave plug; (2) 110v outlets; and (1) 12v dc power source. As a result, the vehicle can also be utilized as a mobile generator and is fully equipped for black-out and infrared driving modes. According to Len Goldstein, VSE Chief Engineer, "These features are just the beginning. The possibilities for mission-specific variants of this vehicle platform include a Command and Control vehicle; Weapons Station Platform; Reconnaissance, Surveillance & Targeting; Ambulance; Fire Fighting; as well as serving as a personnel transport. There is also the option of an electrically-driven variant, a fuel cell variant and an autonomous LASSO vehicle."  
John Wasylyk concluded, "Anyone who has test driven the LASSO have been astounded by its extreme off-road capabilities.  We are proud of our LASSO vehicle and we believe that it will be a great asset to our military, border protection and other government agencies which can quickly adapt from routine use to the most complex austere environments."
VSE Corporation
27.07.2010

Share...




ManTech Wins Up to $355M Two-Year Army Contract to Support MRAPs in Southwest Asia Expands prior JERRV mission to include additional vehicle types
05.02.2009
Hussar
23.07.2007
Discuss