BAE Systems Receives $629 Million Contract to Upgrade Caiman MRAP
Category: Contracts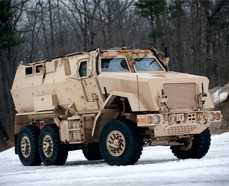 HOUSTON, Texas -- BAE Systems has been awarded a $629 million contract from the U.S. Mine Resistant Ambush Protected (MRAP) Joint Program Office (JPO) to upgrade 1,700 Caiman MRAP vehicles.
This award demonstrates how BAE Systems' Readiness and Sustainment capabilities are supporting the customer's current and future requirements by rapidly improving product performance to protect troops during combat missions.
The upgraded vehicle, called the Caiman Multi-Terrain Vehicle (MTV), integrates a refurbished and improved armored capsule from an existing Caiman with a new high-power automotive power train, chassis and independent suspension. These enhancements will provide greater levels of mobility and survivability necessary for challenging and varied environments and enemy threats.
"The Caiman MTV meets the urgent and enduring needs of our troops for greater mobility and survivability," said Dennis Morris, president, BAE Systems Global Tactical Systems. "The Caiman MTV is a very adaptable configuration that can be customized to meet a variety of missions, and we look forward to getting these to the field."
BAE Systems introduced the Caiman MTV earlier this year following a rapid design and development program to respond to user needs. Caiman MTV provides an effective combination of interior capacity, tactical mobility, operator comfort and survivability.
Caiman MTV achieves greater survivability through an enhanced monolithic floor, a strengthened chassis frame and highly effective blast absorbing seats. The vehicle's improved mobility is achieved with a greater vehicle track width, a strong independent suspension and an upgraded powertrain. Caiman MTV provides optimum stability, agility, payload and power-to-weight for a tactical vehicle of its size, delivering to the user a high level of performance in multiple environments and terrain. The upgraded interior includes an upgraded HVAC temperature control system to protect soldiers and critical computer equipment from hot and cold extremes.
Under the contract, the driveable rolling chassis will be produced in Sealy, TX and delivered to the JPO starting in November 2010 with final integration being completed jointly by BAE Systems' and U.S. Government personnel. BAE Systems is actively supporting the sustainment of MRAP vehicles in theater with field service representatives serving directly alongside our service members.
BAE Systems
02.09.2010

Share...




BAE Systems` CV90 increases lethality by testing SPIKE LR anti-tank guided missile
14.01.2020
U.S. Marine Corps orders more Amphibious Combat Vehicles
11.11.2019
RAVEN Countermeasure System protects vehicles from missile threats
15.10.2019
BAE Systems unveils Robotic Technology Demonstrator Vehicle at AUSA
15.10.2019
BAE Systems Land Systems Hagglunds AB
BAE SYSTEMS Advanced Technology Centre
BAE SYSTEMS Customer Solutions & Support Land & Sea
BAE SYSTEMS Operational Training
BAE SYSTEMS RO Defence Small Arms Ammunition Division
BAE Systems North America, Land & Information Systems
RG-33 MRAP II (Mine protected carrier)
Cougar MRAP (Mine protected carrier)
Caiman MRAP (Mine protected carrier)
Caiman Light (Mine protected carrier)
LAZAR BVT 8808-SR MRAP (Mine protected carrier)
MRAP-VVT (Crew training simulator)
Sherpa Medium MRAP (Mine protected carrier)
Caiman MTV (Mine protected carrier)
Discuss