Swiss Army Takes Delivery of New Gunnery, Combat and Tactical Simulators
Category: Training And Simulators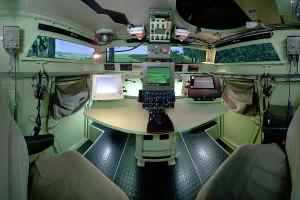 Rheinmetall Defence`s Simulation and Training division has just supplied the Swiss Army with several state-of-the-art gunnery, combat and tactical simulators.
The Swiss Army's Mechanized Training Centre in Thun now features a number of extremely advanced training systems in one of the world's largest simulation facilities. These include the ELSA Spz2000, an electronic gunnery training system for Switzerland's Schutzenpanzer 2000 IFV; a "Schiesskommandant" (SKdt) gunnery commander system; and an ELSA Leo II WE electronic gunnery training system for the Swiss Army's Panzer 87 Leopard WE. Likewise on behalf of Switzerland's Armasuisse procurement agency, Rheinmetall Defence simultaneously transferred the enhanced, regenerated ELTAM electronic tactical simulator for mechanized formations in development stages E1-E4 to the Swiss Army, right on schedule.
The Swiss Army is now able to employ these virtual reality systems for training operations ranging from individual tank gunnery to full-scale tactical exercises at battalion staff level.
The principal challenge in implementing this project was the complexity of the simulator network. Controlling a network consisting of over 900 computers with a simulation-specific software volume of some 17 million programming lines, 348 projectors and 616 visualization system channels constitutes a tremendous technological and logistical feat. As a result, Thun now plays host to the largest simulator network ever created by Rheinmetall Defence.
Training takes place in 35 highly realistic replica vehicles, each equipped with a 360o external view projection. Combat operations are conducted on a virtual battlefield measuring 1,666 km2 and featuring 460 built-up areas, some 9,000 kilometres of road as well as fields, forests and rivers. Models of all standard military aircraft and ground vehicles enable trainers to generate a multitude of tactical scenarios, while a variety of optical and acoustic effects add authenticity to the training experience in every situation.
With ELTAM the focus is on tactical training for leaders in battalion-level formations. Besides mechanized infantry, armour and artillery, scenarios can include logistical elements and medical support. This way, training takes account of the delaying influence of logistical processes.
Using replica radios, voice radio networks in the communication systems are configured to match specific combat scenarios. Furthermore, the simulator can be linked with the actual INTAFF artillery command and control system.
The successful integration of these highly sophisticated gunnery, combat and tactical simulators into the Mechanized Training Centre in Thun underscores once again the globally leading position held by Rheinmetall Defence's Simulation and Training division. With a wide array of applications for ground, air and naval forces, Rheinmetall solutions enable in-depth, realistic training, making the company a reliable and trusted partner of the armed forces of nations around the world.
Rheinmetall
01.10.2010

Share...




Germany awards 159 MUSD vehicle contract to GDELS
24.04.2020
Rheinmetall MAN Survivor R special protected vehicle on show at GPEC 2020 international security exhibition in Frankfurt/Main
24.02.2020
Rheinmetall books ˆ110 million-contract to extend the service life of the Marder infantry fighting vehicle for the Bundeswehr
21.01.2020
Switzerland awards contract to General Dynamics European Land Systems- Mowag to deliver 100 EAGLE 6x6 reconnaissance vehicles
06.12.2019
Rheinmetall MAN Military Vehicles GmbH - RMMV
Rheinmetall Verseidag Ballistic Protection GmbH
Rheinmetall Soldier Electronics GmbH
Rheinmetall AG, Representative Office Abu Dhabi
Rheinmetall Waffe Munition GmbH
Rheinmetall Defence Electronics GmbH
Rheinmetall Waffe Munition Arges GmbH
American Rheinmetall Munitions, Inc. - ARM
Rheinmetall Denel Munition (Pty) Ltd - RDM
Discuss