KMW delivers 20 upgraded LEOPARD 2 main battle tanks to Canada
Category: Defence Industry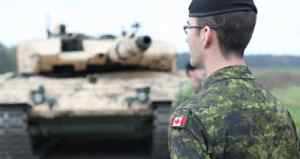 Munich/Bergen -- Krauss-Maffei Wegmann (KMW) has handed over the first of 20 LEOPARD 2 A4M CAN modernised battle tanks to the Canadian armed forces yesterday, October 7th 2010.
The roll-out took place in the presence of the Canadian military representative, Vice Admiral Denis Rouleau, and the General der Panzertruppen, Brigadier General Klaus Feldmann, and numerous other representatives of the Canadian and German army on training area at Bergen near Hannover (Germany). The next deployment location for the Canadian LEOPARDS will be Afghanistan.
On the occasion of the roll-out, Brigadier-General Steve Bowes, Commander of the Canadian Land Force Atlantic Area said: "The complexity of the contemporary operational environment has done nothing to dimish the importance of armour supporting the combined arms team. Canadians are proud to serve our nation and support our allies abroad with the best main battle tank Leopard 2 for today's complex operational environment."
Protecting lives "Made in Germany"
Canada commissioned KMW to upgrade 20 LEOPARD main battle tanks in July 2009 for deployment in Hindu Kush. The new version, the LEOPARD A4M CAN, is specially designed for operations in Afghanistan. Both knowledge from the previously used LEOPARD 2A6M and state-of-the-art technology that was recently qualified by KMW in collaboration with the German army and the Federal Office of Defence Technology and Procurement (BWB) flowed into the development.
The development, conversion and overhaul of the first vehicles were successfully carried out in less than one year, converting them into modern operational units.
Daniel Hebert, Project Manager Tank Replacement Project, said: "The flexibility, professionalism and teamwork exhibited by KMW over the past three years to support Canada's Leopard 2 A6M in Afghanistan was exceptional. Now, with the Leopard 2 A4M, KMW continues to be instrumental in providing Canada with superior firepower, mobility and the protection required to save lives."
The main focus of the new design was consistent protection of the crews, who are subjected to enemy attacks with powerful anti-tank projectiles and are in constant danger from mines and IED's (Improvised Explosive Devices). The starting point for the protection concept is outstanding protection from mines and good all-round protection.
Furthermore, the capabilities of the new battle tank have been significantly extended by integrating a pioneer equipment interface. Mine rollers, mine ploughs and dozer blades allow the Canadian armed forces to carry out a wide range of dangerous tasks in spite of the small number of heavy vehicles. Provisions have also been made for deployment in the extreme heat of southern Afghanistan.
With this order, KMW has again provided proof of its system capability in battle tank construction, which is globally unique. The armed forces of 16 countries now rely on the LEOPARD 2.
Optimum mobility with a major effect
On the battlefield, the LEOPARD is the most powerful response to enemies who are armed with weapons of war and provides maximum protection and unrestricted mobility for your own crew. Unlike many other systems, the tank can also operate and demonstrate its strengths in extremely dangerous environments and can also do this over long periods of time if necessary. NATO partners Canada and Denmark have therefore been deploying the LEOPARD 2 for years in ISAF operations in Afghanistan.
With its armour, which goes far beyond that of any other battle vehicle, its speed, its agility and its precise and extremely effective weaponry, it has a tremendous amount of deterrent potential as far as the enemy is concerned and is an essential system for Canadian soldiers during operations that they cannot imagine doing without. It has saved the lives of Canadian soldiers on many occasions. This protection also has a positive effect on the morale of the troops, who now rely on their Leos during operations.
KMW
11.10.2010

Share...




Denmark and Germany receive the latest versions of the LEOPARD 2
07.11.2019
Rheinmetall to Feature Next Generation 130mm Tank Gun at AUSA Global
04.11.2019
Rheinmetall Presents Next Gen "Wiesel Wingman" solution for Robotic Combat Vehicle – Light at AUSA 2019
04.11.2019
Multimillion-euro order from Hungary
02.10.2019
Krauss-Maffei Wegmann GmbH & Co.KG - KMW
Asian Defence Journal Office for United States/Canada
Defense News Representative in Eastern USA and Canada
General Motors Of Canada Limited
KUKA Defence Technologies of Canada Ltd.
Saab Training Systems Canada Limited
DuPont Canada, Inc. Advanced Fibers Systems
Defence Research and Development Canada Valcartier - DRDC
General Dynamics Land Systems - GDLS - Canada
Leopard 2 Strv 122 (Main battle tank)
Leopard 2 Strv 121 (Main battle tank)
Leopard 2/Pz87 (Main battle tank)
Lahat Leopard 2 (Modernization of the vehicle)
Discuss