Force Protection Selects Manufacturing Base for Ocelot in Australia
Category: Defence Industry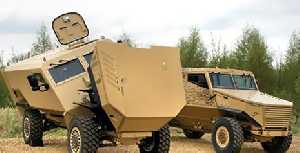 Ladson -- Force Protection Australasia, a Force Protection, Inc. group company, today announced it had reached agreement with the South Australian Government to manufacture and support its Ocelot vehicle in Adelaide, if it is successful in securing the contract to manufacture up to 1,300 next-generation protected mobility vehicles under the 'Land 121 Phase 4' program.
Chief Executive Officer, Michael Moody, said that following discussions with the State Government and potential suppliers, South Australia offered the most suitable manufacturing base for the Ocelot.
"Since we first met with the Government and potential suppliers in 2009, it has become clear that South Australia can provide the essential ingredients we need to successfully manufacture and support the Ocelot," Mr Moody said. "This view was confirmed during my recent discussions with Premier Mike Rann.
"The South Australian Government has been very supportive and highly professional in its discussions with us. South Australia's reputation as Australia's 'Defence State' is well-founded. I certainly believe that with our Ocelot, the strength and capability of Force Protection and our collaboration with South Australia, we will have a compelling offering for the Commonwealth of Australia."
Force Protection has identified a site within the Edinburgh Parks precinct, in Adelaide's northern suburbs, as a suitable location for its proposed vehicle manufacturing base.
He said today's announcement strengthened Force Protection's commitment to operating in Australia, and looked forward to making further announcements about the company's plans.
This is a significant step forward in the potential development of the Ocelot in Australia.
It also follows an announcement last month that the UK's Ministry of Defence (MoD) had selected Force Protection Europe as preferred bidder to supply its Ocelot for the MoD's urgent operational requirement for the Light Protected Patrol Vehicle program (LPPV).
Mr. Moody concluded, "The Ocelot now has a first class endorsement from the United Kingdom and is ideally suited to the Australian requirement."
Force Protection
22.10.2010

Share...




Rheinmetall MAN Survivor R special protected vehicle on show at GPEC 2020 international security exhibition in Frankfurt/Main
24.02.2020
THALES AUSTRALIA AND GENERAL DYNAMICS ORDNANCE AND TACTICAL SYSTEMS DELIVERING FOR THE ADF
12.06.2019
The Dutch armed forces select Rheinmetall to modernize their Bergepanzer 3 Büffel
17.05.2019
BAE Systems awarded Armored Multi-Purpose Vehicle contract modifications by U.S. Army for Low-Rate Initial Production
24.02.2019
Asia-Pacific Defence Reporter (Advertising, Australia & International)
Jane's Information Group (Australia)
ADVANCED POWER AUSTRALIA PTY LTD
Combat Clothing Australia Pty Ltd (CCA)
Specialist Training Australia - STA
Simulation Industry Association of Australia
Ocelot LPPV/Foxhound (Mine protected carrier)
Discuss