BAE Systems Launches Integrated Smart V Solution for HMMWV
Category: Exhibitions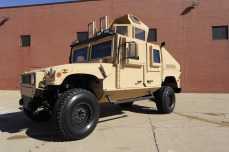 WASHINGTON, D.C. -- BAE Systems introduced a lightweight monocoque V-hull HMMWV recap solution called the Integrated Smart V™ (ISV™ ), at the Association of the U.S. Army's (AUSA) 2010 Annual Meeting.
The innovative solution leverages the company's legacy of mine protection and survivability experience to offer a highly survivable, high-mobility multipurpose vehicle at a low-cost for the U.S. Army.
The central component of the ISV solution is a layered monocoque hull with a V-shaped underbody that totally encapsulates the crew, providing protection from all sides through an integrated hull that significantly boosts underbody blast protection. The design is based on fielded, battle proven solutions from BAE Systems' mine-resistant vehicles used around the world.
"The ISV is cleverly designed to respond intuitively to side and underbody mine blast impacts," said Chris Chambers, line lead for BAE Systems. "By using clips attached to the monocoque V-hull, the ISV provides a rigid, uncompromising protection solution at an affordable price," Chambers added.
ISV reuses a large percentage of existing HMMWV components, including the power train and wheel assemblies, thereby saving on production and training costs. Sustainment savings come through ISV modularity, allowing battle damaged vehicles to be repaired in the field and enabling future upgrades.
BAE Systems' ISV solution is built on mature V-hull technology that is currently in production on light tactical vehicles. The ISV allows the U.S. Armed Forces to quickly realize significant improvements in HMMWV survivability for current and future operations.
BAE Systems
25.10.2010

Share...




BAE Systems` CV90 increases lethality by testing SPIKE LR anti-tank guided missile
14.01.2020
U.S. Marine Corps orders more Amphibious Combat Vehicles
11.11.2019
RAVEN Countermeasure System protects vehicles from missile threats
15.10.2019
BAE Systems unveils Robotic Technology Demonstrator Vehicle at AUSA
15.10.2019
BAE Systems Land Systems Hagglunds AB
BAE SYSTEMS Advanced Technology Centre
BAE SYSTEMS Customer Solutions & Support Land & Sea
BAE SYSTEMS Operational Training
BAE SYSTEMS RO Defence Small Arms Ammunition Division
BAE Systems North America, Land & Information Systems
M997 HMMWV (Ambulance vehicle)
M996 HMMWV (Ambulance vehicle)
M1025 HMMWV (Tactical vehicle)
M1026 HMMWV (Tactical vehicle)
M1035 HMMWV (Ambulance vehicle)
M1038 HMMWV (Tactical vehicle)
M997A3 HMMWV (Ambulance vehicle)
HMMWV/Hawkeye 105 (Self-propelled howitzer)
Discuss