BAE Systems Receives New Soldier Equipment Orders Worth $22 Million from U.S. Army
Category: Contracts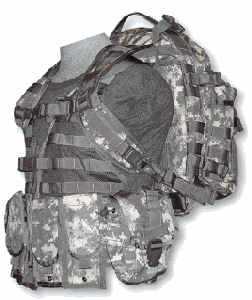 PHOENIX, Arizona -- BAE Systems has been awarded two contracts valued at more than $22 million to produce Modular Lightweight Load Carrying Equipment (MOLLE) for the U.S. Army.
The contracts include various MOLLE compatible items, including both large and medium rucksacks, pockets, and pouches in the MultiCamŽ pattern, as well as medium rucksacks and Tactical Assault Panels (TAP) in universal camouflage.
MOLLE is a fully integrated, modular load carrying system that includes vests, backpacks or "rucksacks" as they're often called, pockets, pouches and hydration systems, all of which are configurable for specific mission requirements. The TAP features an apron-like panel which attaches to the front and sides of a variety of vests, providing soldiers with additional equipment carrying options, as well as the ability to quickly release equipment in emergency situations.
The MOLLE contracts, valued at $17.9 million and $4.2 million respectively, are delivery orders issued against an indefinite delivery, indefinite quantity (IDIQ) contract awarded to BAE Systems in August 2006. The most recent awards bring the total, cumulative contract award value to approximately $199 million.
"MOLLE provides troops with a completely tailorable and modular system of rucks, pockets and pouches which are designed to improve readiness and efficiency" said Greg Kraak, Director of U.S. Military Programs for BAE Systems' Personnel Protection Systems business. "Soldiers deploying to Afghanistan will do so wearing the new Operation Enduring Freedom camouflage pattern (OCP). Also known as MultiCam, OCP provides Soldiers with the ability to better conceal themselves in various environments, seasons, elevations and light conditions, aiding in their mission effectiveness and survivability."
BAE Systems' Personnel Protection Systems' business manufactures MOLLE equipment. Production began in October at company facilities in McKee, Kentucky and Jessup, Pennsylvania, with final deliveries expected to be completed by January 2011.
BAE Systems is a leading provider of soldier protective and load carriage equipment in the United States, producing a significant portion of the nation's body armor, tactical vests, combat helmets and load carrying systems. Not only is the company focused on the design, development and production of leading edge survivability products, its integration of advanced materials into manufacturing, rigorous product testing, and field trials support the company's focus on the men and women who serve in the armed forces.
BAE Systems
10.11.2010

Share...




BAE Systems` CV90 increases lethality by testing SPIKE LR anti-tank guided missile
14.01.2020
U.S. Marine Corps orders more Amphibious Combat Vehicles
11.11.2019
RAVEN Countermeasure System protects vehicles from missile threats
15.10.2019
BAE Systems unveils Robotic Technology Demonstrator Vehicle at AUSA
15.10.2019
BAE Systems Land Systems Hagglunds AB
BAE SYSTEMS Advanced Technology Centre
BAE SYSTEMS Customer Solutions & Support Land & Sea
BAE SYSTEMS Operational Training
BAE SYSTEMS RO Defence Small Arms Ammunition Division
BAE Systems North America, Land & Information Systems
Discuss