Supacat highlights SPV400 versatility, protection and mobility for Middle East debut at IDEX 11
Category: Exhibitions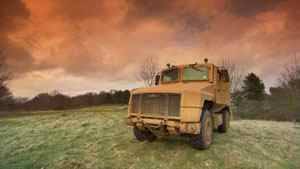 The new Supacat SPV400 protected light vehicle is being shown for the first time in the Middle East on 20 February at IDEX 2011, Abu Dhabi, where its versatility and groundbreaking levels of protection and mobility will be highlighted to the regionís armed forces and NGO organisations.
For a vehicle in the 7.5 ton class the SPV400 has the blast and ballistic protection levels typical of vehicles over twice its weight, yet has agility, speed and outstanding cross country performance. It can reach speeds up to 80mph on the desert plain but can manoeuvre in tight urban environments, inaccessible to heavier vehicles. Air suspension ensures a smooth ride over extreme terrain and conventional steering reduces complexity.
High mobility military vehicle specialist, Supacat, has developed the SPV400 using a modular and future-proofed design, which can be upgraded to meet evolving threats and requirements. It can be configured to perform a variety of roles, such as logistic, reconnaissance or ambulance, with the crew pod easily replaced with a new mission module.
Purpose designed to counter the Improvised Explosive Device threat, the SPV400 boasts an integrated blast and ballistic protection system. The system was designed by the composite armour protection specialist, NP Aerospace, using materials offering high levels of protection from a range of threats at a much lower weight than a traditional steel design. The crew pod is constructed as a separate module, sealed off from potential secondary projectiles, such as kit and electronic devices, which are housed in a rear compartment. All seats are mine blast protected.
ďThe SPV400 is a clean sheet design which has crew survivability built in from the outset to provide the protection and mobility necessary to meet the threat from Improvised Explosive DevicesĒ, said Nick Ames, Managing Director, Supacat.
Additional protection is provided by the front and rear axles, which are mounted on detachable `sacrificial` sub-frames to absorb and deflect a blast away from the crew pod if a wheel strikes an explosive device. To enable this approach, the engine and transmission are separated to ensure the crew pod is not impacted should the front sub-frame detach. This modular approach also enables rapid in-theatre repair should a vehicle be involved in an incident. The affected module(s) can be quickly replaced enhancing the availability and maintainability of deployed platforms.
The SPV400 will be displayed on the UKTI stand at IDEX outfitted with integrated mission systems provided by SELEX Galileo to demonstrate its mission systems integration expertise. The systems include the SELEX Galileo driverís night vision system and local situational awareness system, both of which outfit existing UK Army vehicles. These link with SELEX Communications internal comms and ECM systems and an EOS Raven remote weapons station into a seamless mission package.
Supacat
14.02.2011

Share...




Supacat, Rheinmetall and SCISYS partnership showcases new High Mobility Integrated Fires Capability
12.09.2019
UK company pioneers autonomous hybrid vehicle for extreme off road operations
12.09.2019
Supacat delivers the first production HMT Extenda Vehicle to Norway
21.06.2018
Rheinmetall set to supply the Australian Defence Force with over 200 Boxer wheeled armoured reconnaissance vehicles
18.03.2018
Ocelot LPPV/Foxhound (Mine protected carrier)
Discuss