France orders Wasp remote-controlled turrets for armored vehicles
Category: Defence Industry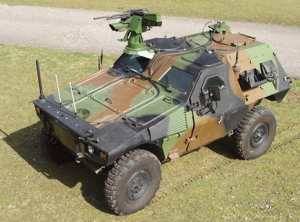 Abu Dhabi, IDEX 2011 -- French defense procurement agency DGA has placed an order with Panhard, working with program co-contractor Sagem (Safran group), for 100 Wasp turrets as part of an operational emergency acquisition procedure.
These Wasp turrets will be used on the French army's PVP and VBL light armoured vehicles.
Developed jointly by Panhard and Sagem, the Wasp (Weapon under Armor for Self-Protection) is a light turret that is remotely-controlled from inside the vehicle. It is fitted with a MAG 58 7.62 mm machine gun, coupled to a day/infrared sight and observation scope derived from the FELIN soldier modernization program, for day or night operation. Incorporating lessons from previous deployments, the Wasp turret significantly enhances self-protection for soldiers, while enabling quicker responsiveness under armor.
Light and compact, the Wasp also features a small visual signature. Because of the weapon's wide range of elevation/depression (-40°/+ 80°), it is ideally suited to combat in urban or mountain environments. It is also designed to subsequently add a fusion function for the daytime and thermal channels, providing the daytime ability to "see through" camouflage.
By combining Panhard's expertise in the design of armored combat systems with the technological innovations derived from Sagem-led defense programs, especially FELIN, the Wasp turret offers high performance for the price, while expanding the operability of light armoured vehicles.
MBDA
21.02.2011

Share...




The Scarabee An Innovative Prototype
13.06.2018
The French ministry of Defence orders vehicles for its Special Forces
09.01.2016
Sagem wins new international contract for SIGMA 30 pointing system on PzH 2000 artillery system
15.04.2014
Sagem wins order from Nexter Systems to supply 37 SIGMA 30 pointing systems for CAESAR gun export contract
07.03.2014
Sagem Defense Securite (SAFRAN Group)
Societe de Constructions Panhard et Levassor
WASP (Remote controlled weapon station)
WASP (Remote controlled weapon station)
Discuss