Oshkosh Defense to Begin Full-Rate Production of New Vehicles for U.S. Marine Corps
Category: Defence Industry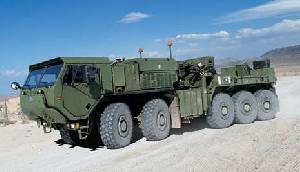 OSHKOSH, Wis. -- Oshkosh Defense, a division of Oshkosh Corporation, will deliver more than 200 Logistics Vehicle System Replacement (LVSR) tractors and nearly 70 LVSR wreckers following an order from the U.S. Marine Corps Systems Command (MARCORSYSCOM).
These will be the first full-rate production tractor and wrecker variants, complementing the LVSR cargo variants that have been supporting Marines in Afghanistan since September 2009.
"The LVSR tractors and wreckers allow Marines to navigate some of their heaviest equipment through the most challenging off-road terrain," said John Bryant, vice president and general manager of Marine Corps Programs for Oshkosh Defense. "In addition to optimizing mobility, the LVSR incorporates technology that provides sophisticated on-board diagnostics information and integrated armor for superior protection. Oshkosh is pleased to support Marine Corps missions with these innovative and highly protected tractors and wreckers."
The LVSR tractor is designed to haul combat vehicles, semi-trailers and other equipment. It has a fifth-wheel vertical-loading capacity of 25.3 tons and a recovery winch with a 30-ton capacity. The LVSR wrecker supports vehicle recovery in a wide range of terrain – from deserts to mountains – including sand, mud, water and snow. The heavy-payload vehicle can flat tow vehicles weighing as much as 55 tons as well as lift and tow vehicles weighing as much as 48 tons.
The advanced LVSR is produced in three variants – cargo, wrecker and tractor – and features an on-road payload capacity of 22.5 tons and an off-road payload capacity of 16.5 tons. It is equipped with the Oshkosh Command Zone™ embedded diagnostics system to provide real-time performance feedback on vital vehicle information and uses the company's patented TAK-4® independent suspension system for off-road mobility in the most challenging environments.
LVSR tractor and wrecker production is scheduled to begin in January 2012 and be completed in September 2012. The order is valued at nearly $125 million.
Oshkosh
25.05.2011

Share...




ARMATA MBT - problems 2020
24.12.2020
Problems of Russian land military vehicles with diesel engines
24.12.2020
Oshkosh Defense Receives Order for 248 Joint Light Tactical Vehicles
02.07.2020
Oshkosh Defense Receives $407.3 Million Order for Joint Light Tactical Vehicles
24.02.2020
OJSC The Kharkov tractor factory
VMK Volgogradsky Tractor Plant - VgTZ
Chelyabinsk Tractor Plant - Uraltrań Ltd
Volat - OJSC Minsk Wheel Tractor Plant - MZKT
A.B.G. (The Al Badie Group of Companies) / Minsk Wheel Tractor Plant
Discuss