Force Protection Receives $71.3 Million in Awards for Additional Buffalo Vehicles and Field Service
Category: Contracts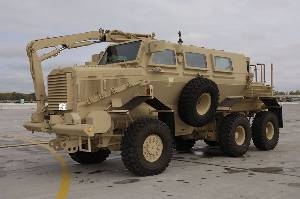 Force Protection Industries, Inc., a FORCE PROTECTION, INC. group company, today announced it has received two awards totaling $71.3 million.
The first award is a firm fixed price modification under contract W56HZV-08-C-0028 totaling $63.8 million from U.S. Army Contracting Command for delivery of 56 Buffalo Mine Protected Clearance Vehicles. Work will be performed in Ladson and is expected to begin in January 2012 and be completed by July 31, 2012.
The second award is a $7.5 million firm-fixed-price modification under previously awarded contract M67854-07-D-5031 for a six-month renewal of 55 Field Service Representatives (FSRs) to conduct general maintenance and upgrade operations on Mine Resistant Ambush Protected (MRAP) vehicles. Work will be performed in overseas theaters of operation, and is expected to be completed by Dec. 31, 2011.
Randy Hutcherson, Chief Operating Officer of Force Protection, said, "The Buffalo remains the cornerstone of the U.S. Army's route clearance operations. It has performed exceptionally well since going into initial service in 2003 and saved countless lives. Complementing our vehicle design, development and manufacturing efforts, we are also supporting the U.S. military with exceptional service and support of our vehicles. Today's announcement of the U.S. Marine Corps' extension of FSR support is another clear indicator of the key role of our vehicles in combat operations. We take pride in working closely with our customers and will continue to ensure they have the critical resources to promote operational success in the current conflict and beyond."
Force Protection
29.06.2011

Share...




Rheinmetall MAN Survivor R special protected vehicle on show at GPEC 2020 international security exhibition in Frankfurt/Main
24.02.2020
The Dutch armed forces select Rheinmetall to modernize their Bergepanzer 3 Büffel
17.05.2019
BAE Systems awarded Armored Multi-Purpose Vehicle contract modifications by U.S. Army for Low-Rate Initial Production
24.02.2019
Rheinmetall Mission Master Dominates European Ground Robotic Systems Competition at ELROB 2018
04.11.2018
Buffalo H (Mine clearing vehicle)
Buffalo (Wheeled armoured personnel carrier)
Turkar Buffalo (Mine protected carrier)
Discuss