ST Engineering`s Land Systems Arm Secures $68m Contract to Supply New Generation Spider Light Strike Vehicles
Category: Contracts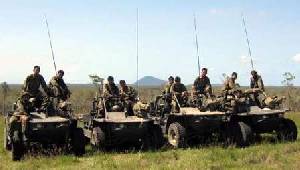 Singapore -- ST Engineering today announced that its land systems arm, ST Kinetics, has won a contract worth S$68m from the Singapore Ministry of Defence (MINDEF) through an international tender, to supply its new generation Spider Light Strike Vehicles (Spider LSV) and spares. Delivery is expected to take place over 2013-14.
Designed with a unique centre drive configuration allowing for weapon systems to be mounted on both sides of the driver, the Spider LSV incorporates a state-of-the-art electronic controlled engine, a 4-speed automatic transmission and an enhanced suspension system capable of high cross-country manoeuverability. The Spider LSV has an increased seating capacity for a crew of six and is heli-portable.
"We are extremely pleased that MINDEF has selected the Spider LSV. This is an excellent testimony to ST Kinetics' continued focus to innovate through smart engineering, effective solutions to meet our customers' evolving operational needs." ~ SEW Chee Jhuen, President, ST Kinetics.
This contract is not expected to have any material impact on the consolidated net tangible assets per share and earnings per share of ST Engineering for the current financial year.
Sergyi Way
13.09.2011


www.army-guide.com
Share...




Robotic Warfare Systems Will Bring Disruption to the Battlefield, Milrem Robotics' Study Finds
25.04.2019
Kongsberg and Milrem Robotics Showcase a Robotic Antitank and HMG System at AUSA
14.10.2018
SAIC Announces Teaming Agreement with ST Kinetics and CMI Defence to Develop Ground Combat Vehicle Prototype
08.10.2017
Singapore MoD Signs Contract for Next Generation Armoured Fighting Vehicle
27.03.2017
Singapore Technologies Engineering Ltd - ST Engineering
General Kinetics Engineering Corp - GK
Singapore Ordnance Engineering Pte Ltd (SOE)
Singapore Automotive Engineering Pte Limited
Singapore Technologies Kinetics Ltd - STK
Allied Ordnance of Singapore (Pte) Limited (AOS)
Ordnance Development and Engineering Company of Singapore
Singapore Technologies Kinetics Ltd - Vietnam Representative Office
STA Detroit Diesel - Allison (Singapore) Pte Ltd (SDDA)
Singapore Technologies Dynamics Pte Ltd
Singapore Technologies Engineering (Europe) Ltd
Singapore Technologies Engineering (Middle East) Ltd
Vision Technologies Kinetics, Inc.
Singapore Technologies Electronics Limited
FERROSTAAL SINGAPORE (PTE) LTD
Spider (Robot, Unmanned Vehicle)
Black Widow Spider (Wheeled armoured personnel carrier)
Discuss