Ceradyne Debuts HMMWV RECAP Candidate at Modern Day Marine
Category: Exhibitions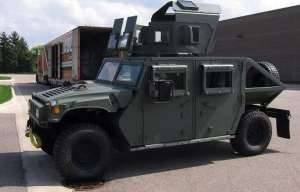 Costa Mesa, Calif. -- Ceradyne, Inc. announced the completion of an advanced technology HMMWV (High Mobility Multipurpose Wheeled Vehicle) RECAP prototype that has been completed by Ceradyne Vehicle Armor Systems and Gravikor in a team effort to incorporate a spaceframe design.
Ceradyne Vehicle Armor Systems, in conjunction with their Team Partner Gravikor will be displaying a technologically advanced version of a HMMWV RECAP candidate at the Modern Day Marine Exhibition in Quantico, VA. on September 27-29, 2011. The prototype incorporates an advanced spaceframe design for a vehicle crew cab providing the versatility to scale the armor application to the mission.
Capable of going from traditional canvas doors to a full "Frag Kit" protection level, this solution also incorporates a blast shield of advanced materials under the crew cab. The combination allows the Marine Corps to recapture the full weight savings needed to insure expeditionary amphibious operations and long term storage aboard ships.
Marc King, President of Ceradyne Armor Systems, explains: "This is the only solution currently available for evaluation that accommodates the concept of "scalable armor" allowing the end user to match the crew protection level with the mission. If no armor or just a light armor application is needed, the spaceframe technology provided on the HMMWV chassis will accommodate it. If the battle field threat is more lethal, the crew can increase the level of protection by changing the armor solution applied to the frame. As better, lighter, more cost effective armors are developed in the future; they can be accommodated as well."
Ceradyne
27.09.2011

Share...




U.S. Army Awards AM General $51.3 Million Contract For High Mobility Multipurpose Wheeled Vehicles
07.10.2018
AM General Awarded 5-Year Requirements Contract For Up To 2,800 M997A3 HMMWV Ambulances
07.10.2018
U.S. Army Places $100.1 Million Order For 258 Joint Light Tactical Vehicles
23.12.2017
Hawkeye lightweight SPH from Mandus Group will take part in MFIX
30.11.2017
M997 HMMWV (Ambulance vehicle)
M996 HMMWV (Ambulance vehicle)
M1025 HMMWV (Tactical vehicle)
M1026 HMMWV (Tactical vehicle)
M1035 HMMWV (Ambulance vehicle)
M1038 HMMWV (Tactical vehicle)
M997A3 HMMWV (Ambulance vehicle)
HMMWV/Hawkeye 105 (Self-propelled howitzer)
Discuss