DRS Technologies Awarded $24.5 Million Army Contract for Engineering and Support Services on the Improved Bradley Aquistition Subsystem (IBAS) used on M2A3 Bradley Fighting Vehicles
Category: Defence Industry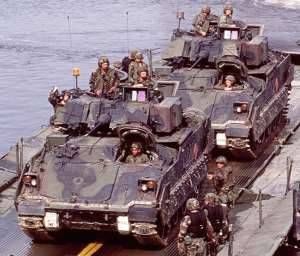 PARSIPPANY, NJ -- DRS Technologies, Inc., a Finmeccanica Company, announced that the U.S. Army has awarded the company's Reconnaissance, Surveillance and Target Acquisition (RSTA) Group a $24.5 million contract to provide engineering services and support activities for the Improved Bradley Acquisition Subsystem (IBAS).
The new federal contract was awarded by the Close Combat Weapon Systems Project Office of the Aviation and Missile Command at the Army's Redstone Arsenal. Under the contract, RSTA will provide level-of-effort (hours-based) support for program management, engineering, logistics, field service, repairs, product assurance, procurement and subcontract activity to support IBAS sustainment requirements.
"This latest contract awarded to DRS Technologies reflects the Army's longstanding confidence in our joint efforts to continuously improve the IBAS subsystem, enhance its reliability and ensure a growing level of effectiveness," said RSTA President Terry Murphy. "As the prime contractor for IBAS, DRS is exceptionally well-positioned to manage the full range of IBAS-related support activities with cost-effective solutions."
IBAS is an upgraded target-acquisition and missile-control subsystem for the M2A3 Bradley Fighting Vehicle. Its technology includes a second-generation forward looking infrared camera, a daylight television camera, direct view optics, aided dual-target tracking, an eye-safe laser rangefinder and a two-axis stabilized head mirror. The improved subsystem offers greater reliability while reducing maintenance time and logistics costs when compared with previous systems.
The engineering services contract extends over five years, and began in September, 2011. RSTA, based in Melbourne, Fla., and Dallas, Tex., earned the contract based on experience and cost competitiveness.
DRS
28.12.2011

Share...




RAVEN Countermeasure System protects vehicles from missile threats
15.10.2019
Raytheon, Rheinmetall form joint venture for US Army combat vehicle competition
02.10.2019
Raytheon, Rheinmetall join forces for US Army's Next-Gen Combat Vehicle competition
14.10.2018
Bradley Driving… In Stereo
06.07.2018
Bradley M2/M3 (Infantry fighting vehicle)
Bradley M2A3/M3A3 (Infantry fighting vehicle)
Bradley M6 Linebacker (Anti-aircraft system)
Bradley M2A3 (Modernization of the vehicle)
Bradley M7 (Observation Post Vehicle)
Bradley M2A1/M3A1 (Infantry fighting vehicle)
Bradley M2A2/M3A2 (Infantry fighting vehicle)
Bradley M2A3 IBAS (Modernization of the vehicle)
Bradley AMTV (Ambulance vehicle)
Bradley AMEV (Ambulance vehicle)
Bradley BMV (Self-propelled mortar)
Discuss