iRobot Builds Leading Robotic Portfolio; Tallies 100th US Patent
Category: Robots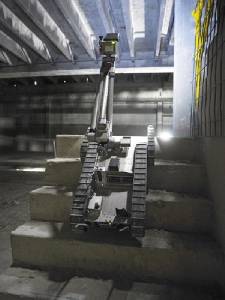 iRobot Corp., a leader in delivering robotic technology-based solutions, has been awarded its 100th United States patent, an important attainment reflecting the company's ongoing attention to building strategic intellectual property.
The 100th U.S. patent (U.S. 8,108,092) protects robotic 'retrotraverse' technology, which gives the iRobot 510 PackBot® with User Assist Package (UAP) the unique capability to autonomously return to its operator should wireless communications fail. Retrotraverse technology, pioneered to keep troops out of harm's way, is applicable to networked and wireless robots in military, commercial, healthcare and household applications. Additional pending U.S. and international patent applications are expected to protect other critical semi-autonomous capabilities provided by the UAP.
"iRobot has made significant investments to protect its intellectual property. We have been both strategic and aggressive in filing U.S. and international patent applications relating to key product features and innovations, and we have entered into partnerships that allow for the cross-licensing of product portfolios," said Colin Angle, chairman and chief executive officer of iRobot. "These steps are important in maintaining our position as the leading publicly traded pure-play robotics company and in sustaining a long-term competitive advantage."
iRobot
21.02.2012

Share...




Adds to Existing $57.9M IDIQ Contract for Sustainment Activity across All FLIR Unmanned Ground Systems
02.02.2021
After rigorous field testing, Germany takes delivery of 44 FirstLook Robots that are used by military and law enforcement worldwide
30.11.2017
iRobot Announces Sale of Defense & Security Business to Arlington Capital Partners
05.02.2016
iRobot Announces Defense & Security Orders Totaling $7.2 M
12.09.2015
510 PackBot (Robot, Unmanned Vehicle)
Discuss