Oshkosh Defense to Unveil Upgraded FMTV at AUSA Winter
Category: Exhibitions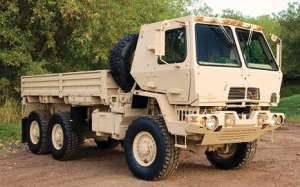 OSHKOSH, Wis. -- Oshkosh Defense, a division of Oshkosh Corporation (NYSE:OSK), is continuing its commitment to further improve protection and mobility for Warfighters on the changing battlefield with new enhancements for the U.S. Army and National Guard's Family of Medium Tactical Vehicles (FMTV). The result for soldiers is better underbody protection and noticeably improved vehicle performance and ride quality on rough terrain.
Named the FMTV Enhanced Protection & Mobility Demonstrator (EPMD), the prototype vehicle utilizes the Oshkosh TAK-4® independent suspension system and a custom-fitted Oshkosh Underbody Improvement Kit (UIK) for previously unrealized levels of protection and mobility. The FMTV EPMD will be unveiled at the AUSA Winter Symposium & Exposition, Feb. 23-25 in Fort Lauderdale, Fla.
"We're drawing on two Oshkosh Defense core competencies – survivability and off-road mobility – to give the FMTV platform improved capabilities on the battlefield against evolving threats and severe terrain," said Mike Ivy, vice president and general manager of Army Programs for Oshkosh Defense. "Oshkosh has had great success delivering a high-quality FMTV fleet for our customer at a reduced cost. These upgrades build on that success and give soldiers a better protected, more mobile family of vehicles."
The FMTV EPMD uses an Oshkosh-designed UIK to provide protection beyond the platform's Long-Term Armor Strategy-compliant armor suite. Oshkosh is in the process of delivering more than 8,000 MRAP All-Terrain Vehicle (M-ATV) UIKs, which are protecting Warfighters in Afghanistan today, as well as more than 400 UIKs for the Army's Heavy Expanded Mobility Tactical Truck (HEMTT) A4. Oshkosh UIKs are designed for light, medium, heavy and MRAP vehicles in the ongoing battle against increasingly dangerous IEDs and roadside bombs.
The Oshkosh TAK-4 system, used on more than 20,000 medium, heavy and MRAP vehicles, delivers several improvements to the FMTV's current configuration, including:
Increasing the off-road profile capability from 30 percent to 70 percent
Delivering 16 inches of front wheel travel – a 120 percent improvement
Improving ride quality on severe terrain, allowing soldiers to arrive more refreshed for their missions
Increasing the maximum off-road speed by nearly 20 percent
Oshkosh to date has conducted more than 6,000 miles of independent durability testing on the FMTV EPMD's subsystems to prove their maturity and readiness for the battlefield.
Oshkosh representatives will be available at booth #3324 in the outdoor display area at AUSA Winter to discuss the FMTV enhancements as well as other Oshkosh vehicles and technologies.
Oshkosh
22.02.2012

Share...




Oshkosh Defense Receives Order for 248 Joint Light Tactical Vehicles
02.07.2020
Oshkosh Defense Receives $407.3 Million Order for Joint Light Tactical Vehicles
24.02.2020
Rheinmetall to Feature Next Generation 130mm Tank Gun at AUSA Global
04.11.2019
Rheinmetall Presents Next Gen "Wiesel Wingman" solution for Robotic Combat Vehicle – Light at AUSA 2019
04.11.2019
THE ASSOCIATION OF THE U.S. ARMY - AUSA
Discuss