Lazika IFV has been unveiled at the Vasiani, Georgia
Category: Defence Industry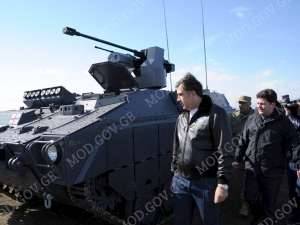 Lazika Tracked Infantry Combat Vehicle has been unveiled at the Vasiani military firing-range. The Georgian President and Defence Minister drove a few kilometers in a new armored vehicle along with military servicemen.
Lazika is a Tracked Infantry Combat Vehicle with a combined armor providing protection from 14,5mm caliber armor-penetrating bullets. Lazika has a remote control weapon module, equipped with fire control system, with 23 mm caliber cannon and 7, 62 mm caliber machine gun mounted on. The fighting vehicle ensures detection and identification of a target (at a distance) and fire control in any kind of weather conditions with day-night and thermal vision cameras. The maximum speed is 70 km/h.
Lazika is the number two armored vehicle after Didgori although it is different in terms of purpose and characteristics. Unlike Didgori which is patrolling, light armored, reconnaissance vehicle, Lazika, which has been presented today, is heavy armored, mobile and offensive fighting vehicle that is not produced by many states. I should say that we have seriously worked in this area and coping with this challenge indicates that we can further develop this direction," said Defence Minister Bacho Akhalaia.
"When manufacturing Lazika, its producers took into account experience of international military industry. Lazika is the second Georgian armored combat vehicle which was produced on the basis of Military Scientific-Technical Center "Delta" subordinate to the Ministry of Defence of Georgia. The first vehicle Didgori was presented to the public on the Military parade on May 26 of 2011.
Georgia MoD
26.02.2012

Share...




Didgori (Reconnaissance Vehicle)
Lazika (Infantry fighting vehicle)
Didgori 2 (Reconnaissance Vehicle)
Didgori 3 (Reconnaissance Vehicle)
Didgori (Self-propelled mortar)
Didgori Meomari (Reconnaissance Vehicle)
Discuss