Stewart & Stevenson Wins U.S. Army Contract for Additional 292 Armored Cabs
Category: Contracts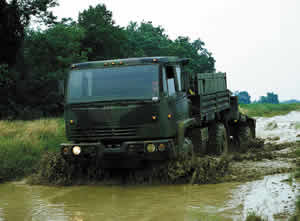 HOUSTON, -- Stewart & Stevenson Services, Inc. announced that Stewart & Stevenson Tactical Vehicle Systems, LP (TVS) received a contract from the U.S. Army to produce an additional 292 Low Signature Armored Cabs (LSAC) for its Family of Medium Tactical Vehicles (FMTV).
Previously, the Army had authorized the long lead item material procurement for these cabs and deliveries were anticipated by the company in the third fiscal quarter of the year.
The contract, valued at approximately $17 million, will bring the U.S. Army's LSAC inventory to over 2,000. The LSAC is specifically designed to minimize any adverse impact on the soldier and the vehicle. The armored cab acts as a protective cocoon, shielding its occupants from a variety of threats including enemy assault, extreme climate conditions, and accidents including roll-over. To date, these protective systems have saved numerous soldiers' lives in operational zones.
Dennis Dellinger, President of TVS, said, "We take pride in our proactive approach of providing effective protection systems for our soldiers and in meeting the Army's armoring needs in response to the on-going war effort. We are working with the U.S. Army in defining future vehicle protection strategies. This ensures development of our production and design capabilities to protect our soldiers in the future."
Stewart & Stevenson has produced over 30,000 FMTV vehicles and 1,700 LSAC cabs since 1991 from their state-of-the-art facility in Sealy, Texas. The FMTV, which includes 2.5-ton, 5-ton and 10-ton trucks in more than 15 active variants, has become the platform of choice for the U.S. Army. In April 2005, Stewart & Stevenson widened their military product range to include the 4x4 and 6x6 Pinzgauer all-terrain vehicle, built in the United Kingdom.
Stewart & Stevenson
16.09.2005

Share...




Oshkosh FMTV A2 Makes Debut at Ausa 2018, Multiple JLTVS Command the Floor
14.10.2018
The U.S. Army Awards Oshkosh Defense The Contract For The Famıly Of Medıum Vehıcles A2 Varıant
08.02.2018
Oshkosh Defense Delivers Proposal For FMTV A2 Production
09.05.2017
Oshkosh Features TerraMax UGV Technology for Route Clearance, Reconnaissance and Convoy Operations
04.05.2016
Discuss