Thales UK launches latest Catherine camera
Category: Defence Industry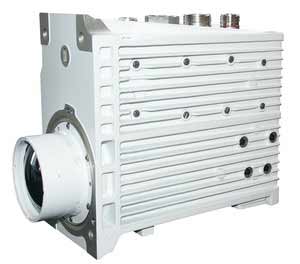 Thales UK has staked its claim as the world leader in advanced cooled thermal imaging technology, with the launch of the latest variant of its successful range of Catherine cameras.
The new Catherine MP (MegaPixel) deploys third generation detector technology, exclusively developed by Thales, to produce an image in excess of one million pixels. The Thales UK Catherine MP will deliver high levels of long-range performance approaching that of the groundbreaking STAIRS C camera but at substantially lower cost - ensuring affordability within many defence budgets throughout the world.
During the camera's launch at the DSEi show this week, vice president of Defence Optronics, Chris Gane, explained where the camera fitted into Thales UK's product range: "This product, together with our ongoing development of cooled cameras, using Quantum Well technology, reflects our strategy of lowering the costs of procurement and ownership of cooled thermal imaging. Cooled TI will always out-perform uncooled TI but we realise that performance in itself is not always enough for the cost conscious customer."
The UK MoD strongly endorsed this low-cost approach to high performance thermal vision and has supported the development to reduce risks on its future programmes
Mr Gane went on to emphasise the general market potential of the camera stating that he expected there to be major requirements for cooled TI in the coming years. He also identified the UK FRES programme as an excellent opportunity to offer affordable high performance cooled solutions for more demanding requirements such as recce and guided weapon variants.
Thales' is widely acknowledged for its ability to identify and answer the market needs for high-performance long-range vision capabilities. Both military and emerging Homeland Security customers are expected to benefit from this new focus on affordability.
Thales UK
19.09.2005

Share...




TEMPORARY COMPANY GROUPING EBMR MEETS ITS DELIVERY OBJECTIVES FOR 2019
14.01.2020
Rheinmetall Presents Next Gen "Wiesel Wingman" solution for Robotic Combat Vehicle – Light at AUSA 2019
04.11.2019
THALES AUSTRALIA AND GENERAL DYNAMICS ORDNANCE AND TACTICAL SYSTEMS DELIVERING FOR THE ADF
12.06.2019
FN Herstal Enhances Self-Protection Capabilities of deFNder RWS with ANTARES Situational Awareness System
11.06.2018
Thales Raytheon Systems France
Thales Optronics (Taunton) Ltd
Thales Training & Simulation (USA)
Catherine FC (Thermal imaging camera)
Buran-Catherine E (Thermal imaging sight)
Buran-Catherine (Thermal imaging sight)
Catherine QW (Thermal imaging camera)
Catherine XP (Thermal imaging camera)
Catherine MP (Thermal imaging camera)
Discuss