Thales UK SWARM remote weapon system selected for US Marine Corps Gladiator Programme
Category: Defence Industry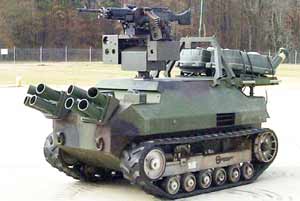 The Thales UK SWARM Remote Weapon System has been selected for the United States Marine Corps Gladiator Programme following a rigorous competition conducted by General Dynamics Armament & Technical Products (GDATP), based at Burlington, Vermont, USA.
The Gladiator Tactical Unmanned Ground Vehicle (TUGV) is a remotely operated combat vehicle capable of carrying out search-and-discovery missions in potentially hostile areas. It is able to warn dismounted troops of potential dangers ahead such as minefields, craters, trenches and hidden enemy positions, as well as alerting them to the presence of chemical, biological and nuclear hazards. The SWARM weapon system, fitted with a 7.62mm M240 machine gun and day/night sensors, will provide a potent offensive capability.
A team headed by Carnegie Mellon University in Pittsburgh, including BAE Land Systems (York, Pennsylvania) and GDATP won the $26.4M contract in February to design, develop and deliver six prototype Gladiator vehicles to the Marine Corps, the production quantity is expected to be in the order of 200 units.
SWARM is a fully armoured remotely operated weapons system capable of taking a variety of different calibre weapons and sensor options. It is unique in that it is the only RWS that is fully qualified to tracked vehicle specification.
Commenting on this success Karen Oddey, Managing Director of Thales UK's land & joint systems business, said, "SWARM is a truly versatile system and this win reflects the significant investment by Thales UK to design and qualify a very reliable, adaptable and low cost armoured remote weapon system"
The SWARM systems will be manufactured at the Thales UK facility in Glasgow where production is about to begin on 35 systems for the British Army's Trojan Engineering Tank.
Thales UK
19.09.2005

Share...




TEMPORARY COMPANY GROUPING EBMR MEETS ITS DELIVERY OBJECTIVES FOR 2019
14.01.2020
Rheinmetall Presents Next Gen "Wiesel Wingman" solution for Robotic Combat Vehicle – Light at AUSA 2019
04.11.2019
THALES AUSTRALIA AND GENERAL DYNAMICS ORDNANCE AND TACTICAL SYSTEMS DELIVERING FOR THE ADF
12.06.2019
FN Herstal Enhances Self-Protection Capabilities of deFNder RWS with ANTARES Situational Awareness System
11.06.2018
Thales Raytheon Systems France
Thales Optronics (Taunton) Ltd
Thales Training & Simulation (USA)
Gladiator TUGV (Robot, Unmanned Vehicle)
SWARM (Remote controlled weapon station)
Discuss