Bulgaria will supply 500 APCs to Iraq
Category: Defence Industry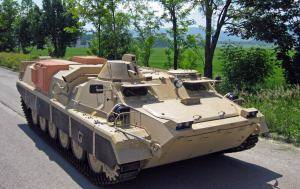 Bulgarian Telegraph Agency informed that Boyko Borisov, prime-minister of Bulgaria signed a deal to supply 500 light armoured MTLB APCs to Iraq.
Decision to sign the contract was made on May, 31, 2012 in the presence of Sadoun al-Dulaimi, Iraqi acting Minister of Defence at Hemus 2012 International Defense and Security exhibition.
After the exhibition opening Borisov informed that the cost of the vehicles to be supplied to Iraq shall amount to around 300,000 levs per unit and total cost of the contract shall amount to 150 mln levs (appr. USD 77 mln). He also mentioned that MTLB APCs were produced at Terem plant in Tyrgovishte town and one MTLB will be sent to Iraq to undergo trials.
Borisov also said that 36 mln euro deal for supply of special-purpose Kintex equipment from Bulgaria to Algeria will be completed soon.
In addition he offered Liu Sheng, deputy Director of People's Liberation Army General Armaments Department to purchase ball ammunition. Borisov joked that one bullet for each Chinese soldier would be enough.
Bulgarian prime-minister called on all countries present at the exhibition to purchase Bulgarian weapon systems, he underlined that they have never received any quality reclamation.
Prime contractor for MTLB to Iraq will be Terem-Khan Krum tank repair plant, Tyrgovishte, Bulgaria. The plant is a part of Terem EAD association which is subordinated to Ministry of Defence of Bulgaria.
The supplied vehicles will be discarded from service in Bulgarian army. Prior to delivery the vehicles will be overhauled and upgraded. The full scope of the upgrade was not unveiled but it is known that rubberized tracks will be installed as well as system designed by Bulgarian Politechnika firm which includes air-conditioner with auxiliary power unit that ensures comfort conditions for the crew in hot climate over a long period of time without giving additional load for the vehicle's main engine.
Politechnika
15.06.2012

Share...




Otokar to Present ARMA 8x8 in HEMUS 2018
04.06.2018
General Dynamics European Land Systems presents a new variant of PIRANHA IFV at the HEMUS Exhibition 2018
04.06.2018
Textron Receives Order for 71 More MSFVs for the Afghanistan National Army
14.06.2012
Oshkosh Defense Showcases Special Forces Vehicle Expertise at SOFEX 2012
06.05.2012
Discuss