COMBAT CRITICAL CARE CORPORATION Announces The O2PAK CHEMICAL OXYGEN GENERATOR
Category: Defence Industry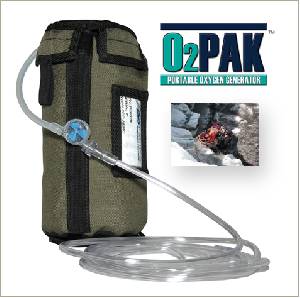 COMBAT CRITICAL CARE CORPORATION, a subsidiary of Pacific Precision Products, proudly announces the launch of a very unique product - the O2PAK portable chemical oxygen generator.
The O2PAKô provides armed forces the capability to provide oxygen , immediately at the point of contact, to battlefield casualties within seconds of injury, thereby increasing chances of survival and recovery in cases of life-threatening injury.
The O2PAKô is a compact, lightweight, hand-held unit (9 inches/ 23 centimeter high, for 2.8 pounds/ 1,3 kilogram) and is small enough to be carried by every soldier in a standard military backpack - it is activated within seconds, delivering 99% pure oxygen at a flow-rate of 4-to 8 LPM for 20-25 minutes in any position (vertical, horizontal). The O2PAKô is a single-use/disposable source of oxygen that can be very rapidly deployed and activated in the most challenging or stressful situations.
The O2PAKô has been specifically designed to address field requirements and is qualified for use in hostile and inaccessible environments (extreme high/low temperatures, pressure, humidity) as well as high altitudes (up 12 000 m/40 000 ft). Extensive scientific research and development and testing has be done under a wide variety of operational conditions to prove safety and efficacy - these include medical, ballistic, blast and fire tests. The O2PAKô has been cleared by the FDA.
The O2PAKô is not pressurised, requires no filling or mixing, no maintenance and has an extra-long shelf-life of 4 years. Solid-state chemical oxygen is utilised to produce oxygen, thereby eliminating the risk of explosion under enemy fire or hazardous conditions (eg. mine/IED detonation). It does not require electricity, battery connection or recharging and can be stored under severe conditions for prolonged periods, immediately ready for use when required.
The O2PAKô is particularly suitable for units operating in abnormal and remote environments who are exposed to a high risk of serious injury - these include special operations forces, early entry and rapidly mobile land forces, airborne forces, marines, navy divers, demining/ EOD engineers, peacekeeping forces, SWAT teams, search and rescue teams, and disaster relief organizations.
The O2PAKô is also ideal for storage and readily-available use in a variety of military vehicles such as mine proof vehicles, infantry fighting vehicles, NBC protected vehicles, fire fighting vehicles, armoured personnel carriers, tanks, helicopters and naval vessels.
COMBAT CRITICAL CARE
27.08.2012

Share...




QinetiQ and Pratt Miller Deliver First Robotic Combat Vehicle - Light to U.S. Army
02.02.2021
ARMATA MBT - problems 2020
24.12.2020
Problems of Russian land military vehicles with diesel engines
24.12.2020
KONGSBERG CONCLUDES A $ 54 MILLION CONTRACT FOR THE DELIVERY WEAPON STATIONS TO CANADIAN ARMY
05.06.2020
Combat Vehicles Reseach & Development Establishment (CVRDE)
Combat Ready Products, Kit Bag Division
Combat Clothing Australia Pty Ltd (CCA)
TRP2 Combat/FOB (Robot, Unmanned Vehicle)
Combat Guard (Reconnaissance Vehicle)
Discuss