At the exhibition IDEX 2013 Golden Security Ltd. presented armored Toyota Land Cruiser 200
Category: Exhibitions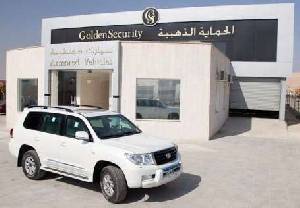 At the exhibition IDEX 2013, UAE, Golden Security Ltd. presented its latest vehicle - Toyota Land Cruiser 200 armored to the level VR 10 / Stanag 3-.
This level of protection is the next after B7 (standards EN 1063 / EN 1522) and according to the company's information the vehicle became the most protected civil vehicle in the world - perhaps excluding the vehicle of the US president, the protection level of which is not disclosed.
Till now there were only three companies in the world which have know-how to design highly protected civil vehicles, yet the level of protection was lower - up to B7, i.e. VPAM 9. Thanks to using state of the art materials and technologies the vehicle of Golden Security weighs even less than these vehicles.
The vehicle withstands attacks by bullets B32 (7.62 x 54R sniper rifle Dragunov) with velocity up to 874 m/s as required by VPAM 10 and Stanag 3, thus providing protection against all widespread soft core and armor piercing bullets 5.56 / 5.45 and 7.62 mm - excluding only tungsten-carbide bullets, that are not easy to source and are quite expensive.
The anti-mine protection guarantees no injuries to the occupants after blasts up to 6 kg TNT under the wheel (anti-tank mine) as required by Stanag 4569, level 2a. Apart from that, no injuries would occur after a blast of IED up to 15 kg at the distance of 2 m from the vehicle, anti-personnel mine DM31 under the floor and up to 3 hand grenades under the floor or on the roof of the vehicle.
The armoring scheme was developed in the company's design bureau in Germany.
The vehicle was tested and certified in a military certification center in Germany; contrary to the civil certification centers (Beschussamt), this certification center register all data necessary to evaluate if any injuries would occur to the occupants. A dummy with sensors is set into the vehicle and some high-speed cameras are installed, recording what happened inside the vehicle at each millisecond after the blast.
The assembly of the vehicles is done in the manufacturing facility of the company in Jordan, as well as at the partner company Armor Group in Russia.
Golden Security
26.02.2013


www.golden-security.de
Share...




ARMATA MBT - problems 2020
24.12.2020
Problems of Russian land military vehicles with diesel engines
24.12.2020
KONGSBERG CONCLUDES A $ 54 MILLION CONTRACT FOR THE DELIVERY WEAPON STATIONS TO CANADIAN ARMY
05.06.2020
TEMPORARY COMPANY GROUPING EBMR MEETS ITS DELIVERY OBJECTIVES FOR 2019
14.01.2020
Armet Armored Vehicles AAVI United Kingdom
Armet Armored Vehicles AAVI United States
Armet Armored Vehicles AAVI Russia
Armored Vehicles & Heavy Equipment Factory (AVF)
Terradyne Armored Vehicles Inc.
International Armored Group - IAG
INKAS Armored Vehicle Manufacturing
M1200 Armored Knight (Reconnaissance Vehicle)
Discuss