Guns Up For Australian Army 6x6 G-Wagons
Category: Army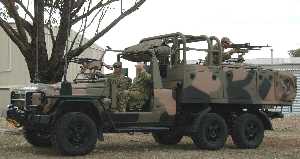 The Australian Army will soon take delivery of the first Mercedes-Benz G-Wagon 6x6 surveillance reconnaissance vehicles (SRV) fitted with a new customised weapons suite.
Under Phase 3A of Project Land 121, around 200 G-Wagon 6x6 SRVs will each receive front and rear weapon mounts developed by Australian weapon mount specialist W&E Platt.
In a AUD$2.5 million contract with Australia's Defence Materiel Organisation (DMO), the company is currently building the mounts at a rate of about 10 sets per week. The contract also includes a spare parts package and technical documentation.
In collaboration with the DMO, Platt undertook extensive in-house design and engineering evaluations of the bespoke weapon mount solutions throughout much of 2012, including Commonwealth of Australia sponsored live fire trials of advanced prototype mounts.
Designed specifically for the unarmoured 300 CDI G-Wagon 6x6 SRV platform, the weapon mount fit comprises a front rail mount for both left and right-handed gunners that is installed on the upper dash structure for the vehicle commander; and a rear skate mount fixed to the rear stowage compartment. The latter enables the gunner to engage targets left, right and to the rear of the vehicle but not to the front of the vehicle, where arcs of fire are restricted by rotation stops.
Each weapon mount can accept a Minimi 5.56mm light machine weapon or a MAG-58 7.62mm general purpose machine gun.
Australian Army units earmarked to receive the 6500kg gross vehicle mass G-Wagon 6x6 SRV include the three Regional Force Surveillance Units: the Pilbara Regiment, NORFORCE and the 51st Battalion, Far North Queensland Regiment. It is understood that Royal Australian Air Force Airfield Defence Guards units will also receive the vehicle.
Delivery of the Platt weapon mounts will continue through the first quarter of 2014.
W&E Platt Pty Ltd
02.10.2013

Share...




SMEs collaborate to develop thermal signature defence solution
16.07.2019
EOS launches new ultra light R150
08.09.2018
Australia Orders 211 Boxer Wheeled Armoured Vehicles
17.08.2018
Leonardo DRS Battle Management Hardware Successfully Supports Australian Tanks During Combat Exercise
27.07.2018
Australian Defence Business Review
Discuss