Scorpion Multi-role Armoured Vehicle Contract Awarded To Nexter, RTD And Thales
Category: Contracts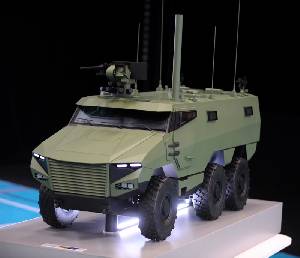 On the occasion of its visit in the 27th Mountain Infantry Brigade Artillery of Varces (Isère), Jean-Yves LE DRIAN, Minister of Defence, handed the EBMR (Armoured Multi-roles vehicles) market to the CEOs of the GME (temporary consortium) formed by the French companies Nexter Systems, Renault Trucks Defense and Thales. Prepared by the Armament Procurement Agency (DGA), this market plans the development, the manufacturing and the support of the EBMR of the SCORPION program.
Under the EBMR contract, the Multi-Role Armoured Vehicle GRIFFON and Reconnaissance and Combat Armoured Vehicle JAGUAR will replace respectively on the one hand the VAB, and on the other hand, the AMX10RC, the ERC Sagaie and the VAB Hot, produced in the 70s and 80s and used extensively by the French Army in all theaters of operation for thirty years.
The contract covers all phases of an armament program, from development to unit logistical support through the qualification and production of systems. The GME is committed to the integral performance of the equipment in the long term as well as the operational availability of vehicles in service.
The state of the art innovation and know-how developed by the three companies in the GME in the domains of mobility, protection, weapons and digitization will be integrated in the first SCORPION-approved systems. The effect on the ground for future joint tactical groups (GTIA) equipped with SCORPION EBMR systems will be greatly increased with regard to the previous generation.
This program has a structuring effect for Nexter, RTD and Thales as well as for the French industrial sector that will be nourished by the subcontracting orders from the GME. It will create a thousand jobs in its development phase and 1,700 jobs in its production phase.
Almost 2,000 vehicles, and all associated logistical support equipment, will be delivered to forces from 2018.
Thales
06.12.2014

Share...




TEMPORARY COMPANY GROUPING EBMR MEETS ITS DELIVERY OBJECTIVES FOR 2019
14.01.2020
Rheinmetall Presents Next Gen "Wiesel Wingman" solution for Robotic Combat Vehicle – Light at AUSA 2019
04.11.2019
THALES AUSTRALIA AND GENERAL DYNAMICS ORDNANCE AND TACTICAL SYSTEMS DELIVERING FOR THE ADF
12.06.2019
FN Herstal Enhances Self-Protection Capabilities of deFNder RWS with ANTARES Situational Awareness System
11.06.2018
Thales Raytheon Systems France
Thales Optronics (Taunton) Ltd
Thales Training & Simulation (USA)
Scorpion (Reconnaissance Vehicle)
FV101 Scorpion CVR(T) (Reconnaissance Vehicle)
Scorpion (Robot, Unmanned Vehicle)
Scorpion (Modernization of the vehicle)
KW1 Scorpion (Wheeled armoured personnel carrier)
KW2 Scorpion (Wheeled armoured personnel carrier)
Scorpion (Mine protected carrier)
Scorpion (Robot, Unmanned Vehicle)
Scorpion (Self-propelled mortar)
Scorpion (Robot, Unmanned Vehicle)
Discuss