MTL leads the way with cold formed Aluminium
Category: Defence Industry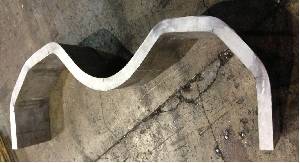 Within the defence manufacturing industry we continually strive to push the limits of technology to redefine what is possible. We understand the need to support change with solid test data and proof of repeatability, and in absence of this, designers and engineers opt for traditional tried and tested methods for the application of materials when developing new platforms.
MTL likes to think a little differently. Building on our expertise in forming steel armour plate and working alongside a major aluminium armour plate producer, we have developed a reliable and repeatable cold forming process for aluminium armour plate, which can potentially change the design and manufacture of aluminium land system platforms in the future.
Aluminium armour materials were never developed with intent to be cold formed, and so intrinsically pose challenges to avoid common modes of failure such as cracking. We have created a reliable and repeatable cold forming process, backed by scientific and engineering validation. We have pushed our current forming technology to its limits, and the integrity of parts produced are validated using innovative and standardised methods of material testing to assure optimum material resilience.
Our overall aim is to enable designers to remove large sections of weld from the overall vehicle structure and reduce piece part count. By reducing the weld, the structure is stronger and more robust, better protecting vehicle occupants and reducing platform production costs.
We began with 5083-H131 armour – a commonly used and well established material for the construction of aluminium vehicle hulls. Process development and optimisation to cold form 90° bends with and across the grain allowed us to move forward with more difficult materials. Similar initial success followed with 7017, 7020 and 7085.
On completion of laboratory tests we expect to release our findings by the end of 2015. We are confident of repeating the success of our formed steel armour plate, for which MTL is well known, further changing the defence industry and the applications of armoured aluminium.
Sergyi Way
30.09.2015


www.army-guide.com
Share...




ARMATA MBT - problems 2020
24.12.2020
Rheinmetall MAN Survivor R special protected vehicle on show at GPEC 2020 international security exhibition in Frankfurt/Main
24.02.2020
MBDA SHOWCASES TANK DESTROYER VEHICLE WITH PGZ AT MSPO 2019
12.09.2019
Problems of Russian Vacuum APFSDS-T projectile
25.01.2019
TenCate Advanced Armour France S.A.S.
TenCate Advanced Armour Danmark A/S
Discuss