KONGSBERG Protector MCRWS selected for Stryker
Category: Defence Industry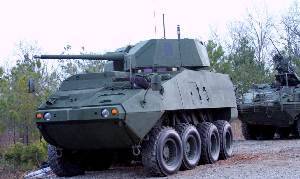 General Dynamics Land Systems has notified KONGSBERG that the 'PROTECTOR' Medium Caliber Remote Weapon Station (MCRWS) has been selected as the 30-millimeter weapon system solution for the Stryker vehicles.
"We are very pleased that our PROTECTOR MCRWS has been selected as the solution for this Stryker brigade. The system is the result of several years of determined effort to develop a system with capabilities and performance required for these types of vehicles," says Espen Henriksen, President of Kongsberg Protech Systems.
"This is a very important milestone for our newest innovation in this field, the Medium Caliber RWS, and we are honored to support US Army and General Dynamics Land Systems in this urgent operational requirement," says Walter Qvam, President and CEO of KONGSBERG.
KONGSBERG has extensive experience with remote weapon stations, and has delivered more than 17,000 units since 2001. The PROTECTOR MCRWS has been developed over the last six years, based on the expertise KONGSBERG has gained delivering remote weapon systems to 17 nations over the last 15 years.
Sergyi Way
21.12.2015


www.army-guide.com
Share...




KONGSBERG CONCLUDES A $ 54 MILLION CONTRACT FOR THE DELIVERY WEAPON STATIONS TO CANADIAN ARMY
05.06.2020
CONTRACT TO DELIVER REMOTE WEAPONS STATIONS TO DENMARK WORTH 270 MNOK
11.12.2019
Oshkosh FMTV A2 Makes Debut at Ausa 2018, Multiple JLTVS Command the Floor
14.10.2018
Kongsberg and Milrem Robotics Showcase a Robotic Antitank and HMG System at AUSA
14.10.2018
Kongsberg Defence & Aerospace AS
M151 Protector RWS (Remote controlled weapon station)
Protector Javelin (Remote controlled weapon station)
Protector Lite (Remote controlled weapon station)
M 153 Protector CROWS II (Remote controlled weapon station)
Protector (Wheeled armoured personnel carrier)
Protector MAV (Wheeled armoured personnel carrier)
Casspir Mk VI Protector (Mine protected carrier)
Protector Dual RWS (Remote controlled weapon station)
Protector Super Lite (Remote controlled weapon station)
PROTECTOR MCT-30 (Remote controlled weapon station)
Protector Nordic (Remote controlled weapon station)
Protector (Robot, Unmanned Vehicle)
Discuss