ADF Weapons Simulator Contract
Category: Training And Simulators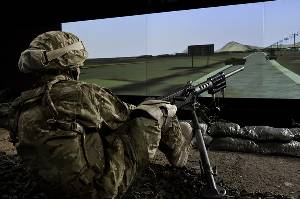 Meggitt PLC ("Meggitt" or "the Group"), a leading international company specialising in high performance components and sub-systems for the aerospace, defence and energy markets announces that Meggitt Training Systems has been awarded an $18 million USD contract from the Australian Defence Force's Capability Acquisition and Sustainment Group. Meggitt will develop, manufacture and install 460 EF88 Steyr assault rifle simulators and 115 SL40 40mm simulated grenade launchers.
"We have supplied, operated and maintained the ADF's Weapon Training Simulation System since 1999 and this latest weapons simulator award further validates Meggitt's long-standing strategic partnership with the Australian Defence Force," said Chris Jordan, Managing Director, Meggitt Training Systems, Australia.
Contract deliveries will take place at 18 locations throughout Australia to support Army, Navy and Air Force training requirements and are expected to begin in the fourth quarter of 2017 and continue through May 2018.
Meggitt
06.07.2016

Share...




Meggitt Training Systems to exhibit at DSEI 2017
14.09.2017
Recapitalization of 218 M1A2 Tanks and Related Equipment and Support
16.12.2016
Meggitt Training Systems Awarded $25 M Support Contract with Canadian Armed Forces
26.08.2015
Meggitt Secures GBP13 M UK MoD Small Arms Simulator Upgrade
16.11.2011
Discuss