Supacat develops new variants of HMT family to optimise Jackal and Coyote in Core and meet new requirements
Category: Defence Industry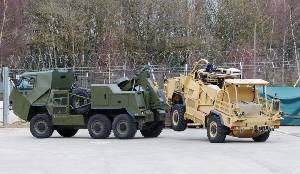 Following the UK MoD decision to take `Jackal` and `Coyote` into its Core Fleet, Supacat is developing additional variants and conversions of its HMT family to meet wider and emerging requirements that the vehicles can fulfil . The aim of the new variants is to help the customer see how they can optimise their existing fleet and enhance capability, interoperability, commonality, efficiency and value for money.
The new variants include HMT in the Recovery, Logistic Support and Gun Towing roles as well as a unique 4×4 to 6×6 convertible feature for `Jackal`. At DVD Supacat is unveiling the Logistic Support and Recovery variants, the former will be exhibited on the Supacat stand and the latter as a static display on the off-road area.
Supacat is also highlighting how the 4×4 `Jackal` can be re-rolled into a 6×6 `Coyote` using the unique convertible concept of its HMT Extenda special operations variant to increase payload, capacity and range. By inserting or removing a self-contained third axle HMT Extenda is convertible to a 4×4 or 6×6 configuration within a day to meet different operational requirements.
"The new variants demonstrate the flexibility of the HMT platform and the different roles it can perform now and in future programmes where it could be offered", said Phil Applegarth, Head of Supacat. "For UK MoD programmes where we do not have a direct product to offer we are looking for teaming opportunities with international primes, similar to our partnership with Rheinmetall on its bid for the Challenger 2 Life Extension Programme".
Supacat is also displaying at DVD its all-new LRV400 Mk2 light reconnaissance vehicle, a high performance off-road vehicle for rapid intervention operations. It offers a highly versatile tactical capability for special forces; it has the unique 4×4 to 6×6 convertible feature and can be transported inside a CH-47 Chinook fully equipped and loaded, making it immediately deployable. At DVD, Supacat will be displaying a concept demonstrator 6×6 version of the LRV.
Supacat
02.09.2016

Share...




Supacat, Rheinmetall and SCISYS partnership showcases new High Mobility Integrated Fires Capability
12.09.2019
UK company pioneers autonomous hybrid vehicle for extreme off road operations
12.09.2019
Supacat delivers the first production HMT Extenda Vehicle to Norway
21.06.2018
Rheinmetall set to supply the Australian Defence Force with over 200 Boxer wheeled armoured reconnaissance vehicles
18.03.2018
Discuss