KONGSBERG signs contracts for PROTECTOR RWS with Switzerland
Category: Contracts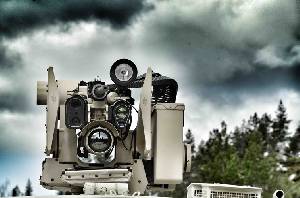 KONGSBERG has signed new contracts for delivery of PROTECTOR RWS to armasuisse for approximately MNOK 130.
The remote weapon system that will be delivered to armasuisse is an updated configuration with new advanced capabilities for new platforms.
"KONGSBERG has delivered PROTECTOR remote weapon systems to Switzerland since 2007. This configuration is the result of a close cooperation with the customer to develop the system for a new generation of platforms," says Espen Henriksen, President of Kongsberg Protech Systems.
The PROTECTOR RWS protects military troops by allowing the vehicle's weapons to be operated from a protected position inside the vehicle. As of today, PROTECTOR has been chosen by 18 nations and KONGSBERG is the world's leading provider of remote weapon systems.
KONGSBERG
08.02.2017

Share...




QinetiQ and Pratt Miller Deliver First Robotic Combat Vehicle - Light to U.S. Army
02.02.2021
KONGSBERG CONCLUDES A $ 54 MILLION CONTRACT FOR THE DELIVERY WEAPON STATIONS TO CANADIAN ARMY
05.06.2020
CONTRACT TO DELIVER REMOTE WEAPONS STATIONS TO DENMARK WORTH 270 MNOK
11.12.2019
Rheinmetall Presents Next Gen "Wiesel Wingman" solution for Robotic Combat Vehicle – Light at AUSA 2019
04.11.2019
Kongsberg Defence & Aerospace AS
M151 Protector RWS (Remote controlled weapon station)
Protector Javelin (Remote controlled weapon station)
Protector Lite (Remote controlled weapon station)
M 153 Protector CROWS II (Remote controlled weapon station)
Protector (Wheeled armoured personnel carrier)
Protector MAV (Wheeled armoured personnel carrier)
Casspir Mk VI Protector (Mine protected carrier)
Protector Dual RWS (Remote controlled weapon station)
Protector Super Lite (Remote controlled weapon station)
PROTECTOR MCT-30 (Remote controlled weapon station)
Protector Nordic (Remote controlled weapon station)
Protector (Robot, Unmanned Vehicle)
CROWS-J (Remote controlled weapon station)
Discuss