Supacat unveils HMT 400 Desert special operations vehicle at IDEX
Category: Exhibitions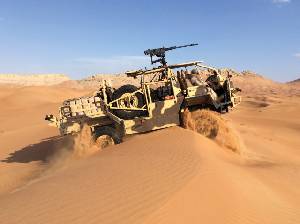 Supacat is unveiling HMT 400 Desert, a new variant of its acclaimed `Jackal` special operations vehicle, at IDEX 2017. HMT 400 Desert will be exhibited on the International Golden Group, IGG, stand 04-C30 as Supacatís representatives in the UAE.
HMT 400 Desert has been adapted to enhance performance in the desertís harsh environment and climatic conditions. It has no armour and the lighter gross vehicle mass improves the power-to-weight ratio and increases mobility over deep desert sand. Further desert features include cooling, a central tyre inflation system and lightweight bead locks to enable the vehicle to be operated at the lowest tyre pressures.
The vehicle has been configured to fully comply with the UAE Presidential Guardís requirements for a new special operations vehicle, including tactical CH-47 internal loading, and has undergone successful tactical trials and testing by UAE forces over the summer. The HMT series, widely known as `Jackal`, has been battle proven in service with numerous elite special forces worldwide.
ďSupacat is committed to supporting the region and in the event that HMT 400 Desert is selected by the UAE Presidential Guard a large element of the production and subsequent support programmes will be conducted in UAEĒ, said Phil Applegarth, Head of Supacat.
The flexibility of the HMT series has been recently demonstrated by Supacat in developing additional variants and conversions to meet wider and emerging requirements. These include HMT in the Recovery, Logistic Support and Gun Towing roles as well as a unique 4×4 to 6×6 convertible feature, which were announced in September at DVD in the UK.
Sergyi Way
20.02.2017


www.army-guide.com
Share...




Supacat, Rheinmetall and SCISYS partnership showcases new High Mobility Integrated Fires Capability
12.09.2019
UK company pioneers autonomous hybrid vehicle for extreme off road operations
12.09.2019
Supacat delivers the first production HMT Extenda Vehicle to Norway
21.06.2018
Rheinmetall set to supply the Australian Defence Force with over 200 Boxer wheeled armoured reconnaissance vehicles
18.03.2018
Discuss