Leonardo DRS Receives Additional $58 Million In U.S. Army Orders For Next-Generaition Combat Computing Upgrades
Category: Contracts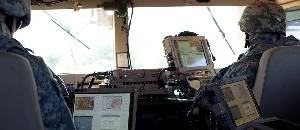 ARLINGTON, VA -- Leonardo DRS, Inc. announced today that it has received an additional $58 million in orders from the U.S. ArmyMission Command Program Office to provide next-generation combat computing systems called the Mounted Family of Computer Systems, or MFoCS.
The contract brings the 2017 total MFoCS sales from the U.S. Army to more than $110 million from an indefinite delivery/indefinite quantity contract. Leonardo DRS is performing the work in its Melbourne, Florida facility.
"Our MFoCS systems can support current and future proposed software applications, while also providing critical trusted-computing security features. We have been able to significantly increase the computing power, storage and mission flexibility of the platform computer, while simultaneously improving performance in all areas of size, weight, power and cost," said Jerry Hathaway, vice president and general manager of the DRS Land Electronics business.
MFoCS systems are being installed in ground combat and tactical vehicles to provide modular computing capabilities for the U.S Army and other services, giving warfighters the next-generation of computing and display technology with faster processing performance. This enables support for simultaneous applications as well as the integration of additional sensors and communications networks. MFoCS provides rugged tactical computers that meet severe platform environmental requirements while reducing Army and Marine Corps fielding and sustainment costs.
"We are very proud to have worked closely with our customer to ensure that MFoCS meets the demanding requirements of mission-critical reliability combined with robust security enhancements to ensure trusted performance today and into the future," Hathaway said.
Under the contract, Leonardo DRS will provide the Army with dismountable tablets, processor units, docking stations, interconnecting cables, and three sizes of ruggedized sunlight-readable touch-screen display units.
MFoCS was developed and produced based on knowledge and experience gained through over 18 years of delivering mission critical computing components for such programs as FBCB2, JBC-P, BFT, MTS Logistics as well as the UK Army Bowman program.
MFoCS units are also being installed on military aircraft, tactical operations centers, Army watercraft, and naval vessels.
Sergyi Way
14.08.2017


www.army-guide.com
Share...




Leonardo DRS Battle Management Hardware Successfully Supports Australian Tanks During Combat Exercise
27.07.2018
Australian Army Contracts Leonardo DRS For Next-Generation Combat Computing Upgrades
28.07.2017
Discuss