Three-axis amphibious armored truck was created in Belarus
Category: Defence Industry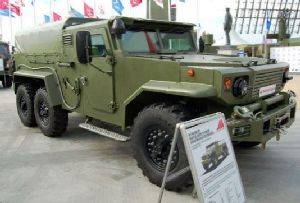 Multi-purpose armored vehicle Vitim 668240 was developed in Minsk at the Minotor-Service enterprise. It was first presented at the International Military Technical Forum "Army-2017" in the Moscow region of Kubinka, Russia.
From many similar products the Belarusian vehicle differs by the wheel formula 6x6 and the ability to swim across water obstacles. The armored vehicle can swim at a speed of 5 km/h. A 215-horsepower turbo charged diesel can accelerates thid eleven-ton vehicle up to 110 km/h.
In addition to the transportation of personnel, it is possible to transport various cargoes with a total weight of up to 3.5 tons.
If necessary, different armament can be integrated in the body of an armored truck: a 23-mm ZU-23-2 anti-aircraft gun, 82-mm 2B9M Vasilek mortar, a 73-mm anti-tank grenade launcher SPG-9, heavy machine guns, ATGM complexes, light anti-aircraft guns, rocket systems.
In addition to combat use, it can be used for rear-end needs: it provides for the installation of lifting equipment, fuel tanks, etc.
Armored protection Vitim can withstand bullets of caliber 7.62 mm Kalashnikov assault rifle and detonation under the bottom of F-1 hand grenades.
The armored vehicle aroused considerable interest of military specialists.
Sergyi Way
20.03.2018


www.army-guide.com
Share...




Minotor-Service Unitary Enterprise
Vitim (Reconnaissance Vehicle)
Discuss