BAE Systems Wins GBP £123 Million Armoured Vehicle Conntract
Category: Contracts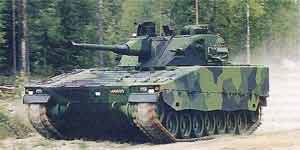 BAE SYSTEMS has won a £123 million order to supply 45 CV9035 Infantry Fighting Vehicles to the Danish Army. This latest order brings the number of CV90 series customers to six, underlining its position as the European combat vehicle alternative.
Danish company Hydrema Export A/S will partner BAE Systems for production of the vehicles. The two companies will jointly investigate the possibility of through-life support for both maintenance and upgrades.
The CV9035, built by BAE Systems' Land Systems Hagglunds, is a new-generation CV90, with improved fire power, protection, mobility and ergonomics plus an advanced electronics architecture.
"The CV90's competitiveness has much to do with its flexible construction, which enables specific configuration adjustments to meet the specific requirements of individual customers," states Sven Kågevall, President of Land Systems Hagglunds. "With the ability for us to partner with domestic industry in each of our customer countries, it has gained a strong market position as the European combat vehicle of choice."
The BAE Systems CV90 has been successful in gaining orders in Norway, Finland, Switzerland, Holland and now Denmark. Interest remains high in a number of other potential export markets both in Europe and beyond.
Total orders for 1,170 CV90s to six countries gives existing and future customers coordination advantages for upgrades and spare parts handling as well as interoperability for international missions.
The 4th generation CV90; CV9035 MkIII, bought by Denmark, is todays most modern combat vehicle.
The vehicle's main armament is a Bushmaster III 35/50 canon including ammunition programmer, controlled by a computerized fire control system. Both gunner and commander have stabilized day and night sight with a 3rd generation thermal night camera for the gunner. The vehicle has a crew complement of 3 and capacity for a further 7 personnel.
BAE Systems
22.12.2005

Share...




BAE Systems` CV90 increases lethality by testing SPIKE LR anti-tank guided missile
14.01.2020
U.S. Marine Corps orders more Amphibious Combat Vehicles
11.11.2019
RAVEN Countermeasure System protects vehicles from missile threats
15.10.2019
BAE Systems unveils Robotic Technology Demonstrator Vehicle at AUSA
15.10.2019
BAE Systems Land Systems Hagglunds AB
BAE SYSTEMS Advanced Technology Centre
BAE SYSTEMS Customer Solutions & Support Land & Sea
BAE SYSTEMS Operational Training
BAE SYSTEMS RO Defence Small Arms Ammunition Division
BAE Systems North America, Land & Information Systems
CV90 (Repair and recovery vehicle)
CV90 Armadillo (Tracked armoured personnel carrier)
CV90 Mk IV (Infantry fighting vehicle)
Discuss