Uralvagonzavod demonstrates BMP-3 with AU-220M weapon station
Category: Future Technologies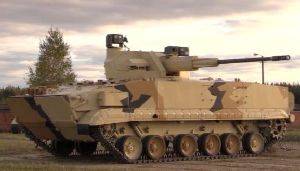 Uralvagonzavod Corporation (UVZ, part of Rostech) has published video of combat shooting at the range from a gun of the caliber of 57 mm, mounted on the weapon station of BMP-3 IFV. The weapon station can be remotely controlled from a position outside the vehicle.
As explained in the corporation, 57-mm AU-220M weapon station, created by the Burevestnik Central Research Institute (included in the UVZ), can be remotely controlled. "Its newest gun not only has increased accuracy of shooting and armor penetration, but it can be controlled remotely," the corporation noted.
Such a function makes it possible to use BMP us a highly effective firing point, capable of destroying both ground and air targets. The crew in this case can completely leave the vehicle.
The video demonstrates the ability of the new vehicle to hit targets with high accuracy. Also shown is the accuracy of the firing with the help of tracer projectiles caliber 57-mm.
Sergyi Way
04.06.2018


www.army-guide.com
Share...




ARMATA MBT - problems 2020
24.12.2020
Problems of Russian land military vehicles with diesel engines
24.12.2020
Problems of Russian Vacuum APFSDS-T projectile
25.01.2019
BMPT Terminator will receive a remote blasting ammunition
07.06.2018
JSC Research and production corporation UralVagonZavod
AU-220M Bajkal (Remote controlled weapon station)
Discuss