Expal Presents a New Configuration of the EIMOS 81 MM Mortar System Integrated in a 4x4 Vehicle
Category: Defence Industry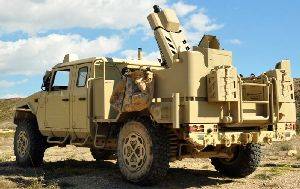 EXPAL, a benchmark in the design and manufacture of technologies and solutions in mortar systems, showcased the latest functions of the EIMOS system at its stand, which can be visited at Eurosatory 2018 until 15th June.
EXPAL's EIMOS system, which has been in service since 2015, is the natural evolution of the conventional 81/60 mm mortar system. The EIMOS system mounts an 81 mm mortar (interchangeable with 60 mm) on a light 4x4 vehicle, providing mobility, greater safety by reducing maneuvering time, and efficiency by integrating a ballistic computer, an automatic aiming system and a command and control system. All this allows armies' capabilities to be increased in indirect fire support operations.
Alberto Fernández, Systems Product Manager at EXPAL, used the presentation to stress that "the modernization carried out in the new configuration of the system has brought improved accuracy and effectiveness in aiming, faster deployment (less than 20 seconds), and navigation without the need for GPS. Furthermore, the company has put a lot of effort into bolstering the systems and equipment, extending their working life, increasing their maintainability and reducing the cost of their life cycle."
EIMOS is a fully configurable, adaptable mortar system that can be integrated in armies' main 4x4 tactical vehicles. Its hydro-pneumatic recoil absorption system transmits only a small fraction to the vehicle, thus ensuring safe firing for the crew, with a very low impact on mechanics and without the need for additional stabilizers.
The EIMOS system is part of EXPAL's one-stop shop solution, covering all needs in indirect fire support missions in infantry operations. This solution is rounded off with: mortar systems (60 mm, 81 mm, 120 mm), the fire control system (TECHFIRE), the advanced observation device in the form of mini UAVs (SHEPHERD-MIL), and the mortar unit tactical training simulator (eSIMOX).
Expal
18.06.2018

Share...




Lockheed Martin and Expal to Pursue the Formation of a Union Temporal De Empresa (UTE) For the Spanish VBR Program
18.06.2010
Discuss