HORIBA MIRA to Continue to Develop Cutting Edge Unmanned Ground Vehicle Technologies
Category: Robots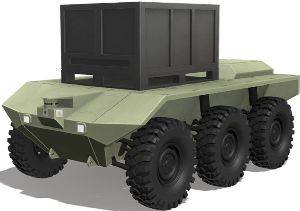 HORIBA MIRA – a world leader in unmanned and autonomous systems design, has been awarded a £700,000 cross-government collaborative programme contract for the second phase of the Autonomous Last Mile Resupply (ALMRS).
Through the Defence and Security Accelerator (DASA), the UK Ministry of Defence (MOD) together with the Department for International Development (DFID) and UK Research and Innovation (UKRI) are working together to deliver advanced designs for drones and robots which could dramatically change how humanitarian aid or supplies for front-line troops are delivered.
HORIBA MIRA will develop its own end-to-end logistics resupply capability, using its latest all-terrain, multirole UGV platform, VIKING. The 6x6, two tonne robot, is integrated with advanced AI-based autonomous systems, including GPS denied navigation, advanced terrain perception and object recognition. It can deliver up to 600kg of supplies over 200km. The UGV system also uses a novel low-bandwidth communication system for command and control.
Using a hand-held terminal, users in the field can make logistics resupply demands which are passed to the UGV. VIKING, using its advanced autonomy, adapts its own route on roads, tracks and across complex terrain to deliver the supplies.
Of the 142 Phase One proposals originally submitted in the summer of 2017, HORIBA MIRA is now one of only five successful bids to enter Phase Two. The VIKING prototype ALMRS system will be tested and demonstrated alongside the British Army Warfighting Experiment, Autonomous Warrior Land, which takes place on Salisbury Plain in the autumn of 2018. All tests and evaluations on VIKING will take place in relevant front-line scenarios.
Andrew Maloney, Chief Engineer for UGVs and Defence at HORIBA MIRA, said: "DASA support is enabling us to take novel AI concepts and integrate them into a state-of-the-art unmanned vehicle, to develop an autonomous last mile system for demonstration in very short timescales. Working with the Dstl technical partners and stakeholders has helped us focus and steer our development to maximise exploitation potential and future benefits for UK MOD and other government stakeholders."
Gavin Williamson, Secretary of State for Defence, said: "Defence makes an unrivalled investment in science and technology, creating thousands of highly-skilled jobs and brilliant career opportunities, generating billions for the UK economy. This Autonomous Last Mile competition has seen next-generation concepts come to life and they could be saving troops' lives on the battlefield in years to come. I congratulate all those involved in the competition as they ensure our military remains ahead of our adversaries."
HORIBA MIRA's work in the defence sector spans engineering consultancy, testing, product design and prototype build. With its combination of highly qualified and experienced staff and a unique collection of test and validation facilities, HORIBA MIRA is uniquely placed to provide comprehensive defence vehicle engineering solutions.
HORIBA MIRA
30.07.2018

Share...




Adds to Existing $57.9M IDIQ Contract for Sustainment Activity across All FLIR Unmanned Ground Systems
02.02.2021
FLIR Wins U.S. Army Heavyweight Robot Contract Worth Up to $109M
06.12.2019
HORIBA MIRA Displays Centaur Unmanned Ground Vehicle at International Defense
21.06.2018
Centaur (Robot, Unmanned Vehicle)
Centaur (Robot, Unmanned Vehicle)
Discuss