AKREP II electric armored vehicle presented in Turkey
Category: Future Technologies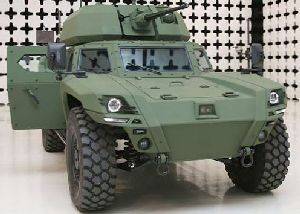 Turkish private defense company Otokar introduced the AKREP II first Turkish electric armored vehicle. The novelty will be exhibited at IDEF'19 Turkish defense exhibition, which will be held in May.
Otokar CEO Serdar Görgüç organized a press conference to introduce a new generation of armored vehicles, presented by AKREP II.
Serdar Görgüç said that the AKREP II version is the first electric armored vehicle in Turkey, which uses companies technologies in the field of military equipment and new electrical, these are the first steps of the Turkish defense industry in hybrid and autonomous technologies.
He also announced that AKREP II will be presented for the first time at the 14th International Defense Industry Exhibition IDEF'19, which will be held in Istanbul (Turkey). Work on the vehicke continued for several months to present it in a special configuration at the exhibition.
Görgüç said: "Speaking about technological developments, of course, alternative fuels are on our agenda for. We developed AKREP II with alternative power source. Equipped with AKREP II electric motors and advanced batteries, Turkey's first electric armored car will be on display at IDEF 2019."
Combining the advantages of maneuverability, low thermal signature, high speed and silence compared to traditional armored vehicles, AKREP II is equipped with an electric motor that is able to meet the most stringent requirements of armies around the world. AKREP II provides the best combination of fuel efficiency, mobility, vitality and integrated logistic support.
"We have military equipment in 32 different countries"
Underlining that Otokar, the national defense industry company, was trying to succeed by offering a wide range of its products in various markets, Görgyuch said that there are goods that will meet the needs of paramilitary, special and the armed forces.
Underlining that they had developed all military products in their own R&D divisions, Görgyuch explained that they had spent 1 billion Turkish liras on research and development in the last 10 years and that these costs had turned into new products, solutions and innovations. Görgüç said the company is also trying to expand its market through technology exports. For example, the United Arab Emirates masters the production of armored vehicles, such as Rabdan and Tulpar. "We have military equipment in 32 different countries. We also provide maintenance and repair services," said Girgyuch.
New solution for new needs
Due to the changing threats, in the last 20 years, the need for tools that can be used in armed patrols, reconnaissance and, if necessary, in resolving conflicts in the world has increased.
Görgüç used the following statements:
"We have been producing AKREP vehicles since 1994, and this was the first vehicle with a thermal imager among all light armored vehicles in Turkey. AKREP was first created to find solutions for our problems at the border and in the border region. The AKREP vehicle has a low silhouette, is quiet and can carry 3 people. We completed AKREP production in 2000. Taking into account the changing trends and changing needs in the world, Otokar decided to renew the AKREP platform with a very low silhouette, less but high fire capabilities, using modern technologies. The platform that we are preparing to meet the needs of intelligence and surveillance. It can be used for both electronic and direct observation. This autonomous vehicle can be integrated with drones or robots."
Both electric and diesel design
Providing information that the car was designed in two versions - electric and diesel, Görgyuch said that at present the electric version is fully ready, and the diesel version will be ready in one year.
The protection level of the AKREP II is similar to that of the Cobra II, but at the same time this vehicle is lighter and has a low height, which increases protection against various threats, such as anti-tank grenade launchers.
Görgüç argues that, both in the front of the car and in the rear, there is a place to accommodate additional batteries, which, if desired, can increase the power reserve for customers. Görgüç pointed out the importance of the ability of the vehicle to provide fire support to nearby ground units.
Specifications
Görgüç, to questions from the press, said that the batteries were enough to ensure 3 hours of work. Fast charging provides a replenishment of 20-30 percent charge within 15-20 minutes. The power reserve will be about 250 kilometers, and it can be increased with the help of new energy-intensive batteries.
Görgüç stressed that the car is mission ready: "We will be able to sell AKREP II in a year." he said.
Sergyi Way
25.04.2019


www.army-guide.com
Share...




Otokar offers solutions with technology transfer and local manufacturing models
13.09.2019
Otokar Receives $28.9 Million Contract for its Armored Vehicles
31.07.2018
Otokar debuts its Light Tank in Paris
19.06.2018
Otokar to Present ARMA 8x8 in HEMUS 2018
04.06.2018
OTOKAR Otobus Karoseri Sanayi A.S.
AKREP II e (Reconnaissance Vehicle)
Discuss