Mine-Resistant Iveco MLVs to be supplied to Norway
Category: Contracts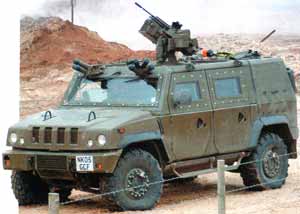 Last month Norway decided to buy up to 72 IVECO Panther vehicles, which will also be fielded by the Belgian Army.
First 25 vehicles of the initial order will be delivered in 2006 - 2007 and there is also an option to buy a further 47 vehicles over a two year period. The contract amounts to $9.64 million and a contract of return purchases has already been made. They say that the purchase comes as a reaction to the international operations experience, where the up-armored Mercedes "Gelendevagen" has proved to be inadequate, especially after the events at Afghanistan in February.
Sergyi Wey
31.03.2006


www.army-guide.com
Share...




U.S. Marine Corps orders more Amphibious Combat Vehicles
11.11.2019
IVECO DEFENCE VEHICLES AWARDED CONTRACT TO DELIVER A NEW GENERATION OF MEDIUM MULTIROLE PROTECTED
24.09.2019
Iveco-Oto Melara Consortium (CIO) Signs Contract With The Italian Ministry Of Defence For 10 Centauro II Armoured Vehicles
25.07.2018
BAE Systems team wins U.S. Marine Corpsí Amphibious Combat Vehicle competition
20.06.2018
Iveco - Oto Melara Consortium - CIO
IVECO S.p.A., Defence Vehicles Division
Panther (Reconnaissance Vehicle)
Panther MLV (LMV) (Armoured car)
K2 Black Panther (Main battle tank)
M60 Panther (Mine clearing vehicle)
M1 Abrams Panther II (Mine clearing vehicle)
Discuss
Records 1 to 4 of 4
Post

Customer
14:50 31.03.2006


This Panther looks more like a Hummer, doesn't it? What is the big difference between the two?

Zoblos
11:57 03.04.2006


i checked and see one vehicle will cost 133 thousand dollars. i think the cost unrealistic, i mean too little. this vehicle must cost 200 thousands and maybe bigger. the writers mixed sth. who know?

Ireek
16:22 04.04.2006


The NDPD selected the LMV following a comprehensive assessment in which LMV competed against a number of international competitors, including the Mowag Eagle IV.

Duster 42
11:12 26.07.2006


Hey Zoblos, its 25 vehicles for 9.64 mil. The other 45 vehicles are "on option", meaning it's not worked out into the initial costing.

Also, contract price doesn't only mean vehicle price. It includes transport costs, maintenence, spares, training programs, staff hiring, vehicle improvement and assessment programs and a whole lot of other things.

This is a good vehicle though, not the best, but good for it's packaged price.