ATK to Provide Mk44 30mm Cannon to Czech Republic
Category: Defence Industry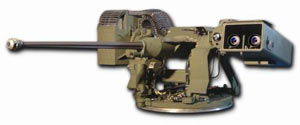 Minneapolis -- Alliant Techsystems has received a contract valued at approximately $20 million for Mk44 30mm cannon weapon systems that will be mounted on the Czech Republic's PANDUR II Wheeled Armored Vehicles.
The Mk44 will be mounted in the RCWS-30 (Remote Control Weapon System) manufactured by RAFAEL Armament Development Authority Ltd.
The RCWS-30 increases the fighting capability and survivability of armored fighting vehicles. It includes ATK's 30mm Mk44, a launcher pod for two Rafael SPIKE LR Multi-Purpose-Guided-Missiles, and a coaxial 7.62mm General-Purpose Machine Gun. The Mk44 gun system is a highly reliable weapon with low life-cycle costs that incorporates a simple and user-friendly design to ensure ease of operability.
The Czech Republic Army put the RCWS-30, integrated with the Mk44 30mm weapon system, through a series of rugged tests before determining that it was the choice for their PANDUR II. The test regime included integration capability on both the PANDUR II and Patria Armoured Modular Vehicle (AMV); open-water crossings; test drives on paved and off-road surfaces; and on-loading and off-loading in a C-130 Hercules aircraft. This success is a result of long-term cooperation between RAFAEL and ATK.
ATK's Mk 44 30mm weapon system is already the choice of nearly 2,000 land vehicles, aircraft, and ship-board weapon systems for the United States and allied nations including Finland, Norway, Poland, Singapore, Switzerland, and the United Kingdom. "The MK44 cannon is the international standard for ground and naval platforms," said Jed Holzapfel, ATK Vice President, International Business Development. "In partnership with Rafael and others, we look forward to providing ATK's entire family of Chain Gun® weapon systems to our allies around the world."
ATK
18.04.2006

Share...




General Dynamics European Land Systems presents a new variant of PIRANHA IFV at the HEMUS Exhibition 2018
04.06.2018
Orbital ATK Demonstrates MK44 Bushmaster Chain Gun in 30mm and 40mm Configurations
28.06.2017
Textron Systems` Light Armaments Team to Develop Lightweight, Cased-Telescoped Small Arms for U.S. Army
14.05.2014
ATK Awarded $12.6 Million in New Medium Caliber Cannon Orders
08.09.2011
Alliant Techsystems Inc. - ATK
Discuss