GD Awarded $31M Contract for RG-31 Mine Protected Vehicles for the Canadian Military
Category: Defence Industry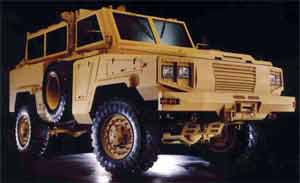 The Government of Canada has awarded a CAD $31 million (US $28 million) contract to General Dynamics Land Systems-Canada to provide 25 additional RG-31 Mine Protected Vehicles. General Dynamics Land Systems, the Canadian company's parent corporation, is a business unit of General Dynamics (NYSE: GD).
This order is an option to a contract originally awarded in November 2005 that called for the delivery of 50 RG-31 vehicles. Vehicle deliveries were completed in April 2006. Deliveries of the additional 25 vehicles will occur from September to November 2006.
Under this contract, General Dynamics Land Systems-Canada provides program management and engineering and logistics support while BAE Land Systems OMC of South Africa manufactures the vehicles. The vehicles incorporate a Kongsberg Protector M151 Remote Weapon Station equipped with a day and night sighting system, which allows the operator to fire the weapon while remaining protected within the vehicle.
The RG-31 tactical vehicle offers enhanced mine blast resistance as well as protection against both improvised explosive devices and ballistic threats. The vehicles, currently being used by the Canadian Forces in their operations in Afghanistan, have already proven their worth when an RG-31 survived a significant roadside bomb explosion earlier last month.
General Dynamics Land Systems-Canada has also completed deliveries of 148 RG-31 vehicles to the U.S. Army in fulfillment of a 2005 contract. In addition, the vehicles have been extensively used by NATO forces in the former Yugoslavia as well as by the United Nations in Lebanon, Georgia, Syria, Bosnia and Herzegovina, and Kosovo.
GDLS
02.06.2006

Share...




KONGSBERG Awarded Contract from GDLS Supporting US Army Stryker ECP Program
11.07.2013
GDLS-Canada Awarded $24 M LAV-A2 Contract by USMC
17.01.2013
Fifty-one new Foxhound vehicles for the front line
25.11.2012
BAE Systems gets R900m MRAP upgrade deal
01.02.2011
General Dynamics Land Systems - GDLS
General Dynamics Land Systems - GDLS - Canada
Discuss