GDLS-Canada Awarded $24 M LAV-A2 Contract by USMC
Category: Contracts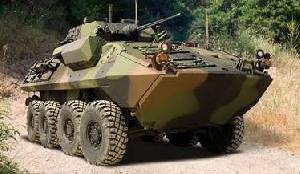 General Dynamics Land Systems-Canada has been awarded a USD$24 million contract to produce 13 Light Armored Vehicles (LAV-A2) for the U.S. Marine Corps. General Dynamics Land Systems, the Canadian company's parent corporation, is a business unit of General Dynamics .
The LAV-A2 is a mobile, survivable and lethal system for conducting a variety of functions, including security, reconnaissance, offensive and defensive operations as part of the Marine Air-Ground Task Force. The eight-wheeled vehicle operates on land and water. It is equipped with enhanced armor protection and an automatic fire-suppression system for crew protection, as well as a robust suspension for mobility.
Vehicle production will be performed at the General Dynamics Land Systems-Canada operations in London, Ontario, with the existing workforce. The first delivery is scheduled for June 2014 and the last delivery will be made in October 2014.
The Marine Corps has ordered 253 LAV-A2 vehicles since 2007. Over 800 units of an earlier version of the Light Armored Vehicle entered service with the Marine Corps in the 1980s and continue operational deployment today.
"General Dynamics Land Systems is proud of its heritage with the Marine Corps and is committed to serving the Corps with cost-effective mission-critical products and services," said Michael Bolon, senior vice president, Marine and Navy sector at General Dynamics Land Systems.
The contract was awarded through the Canadian Commercial Corporation, a Crown Agency of the Canadian Government.
GDLS
17.01.2013

Share...




KONGSBERG Awarded Contract from GDLS Supporting US Army Stryker ECP Program
11.07.2013
Fifty-one new Foxhound vehicles for the front line
25.11.2012
BAE Systems gets R900m MRAP upgrade deal
01.02.2011
More Automatic Ammunition-Handling on Stryker for Meggitt
17.10.2008
General Dynamics Land Systems - GDLS
General Dynamics Land Systems - GDLS - Canada
Discuss