EADS Technology Protects German Armed Forces Puma Armoured Vehicles
Category: Defence Industry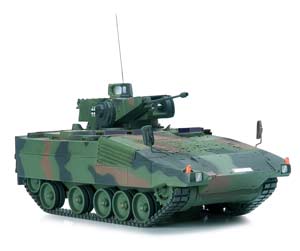 EADS is to equip the German Armed Forces' new Puma armoured fighting vehicles with an electronic self-protection system which repels strikes by guided anti-tank munitions, such as guided missiles, bombs and shells.
EADS Defence Electronics was initially commissioned to equip the first five prototype Puma vehicles with the MUSS multifunctional self-protection system. MUSS comprises three main elements: (1) warning sensors which detect the incoming missile or laser beam directed at the target vehicle and report this to the (2) central computer of the MUSS system. This in turn activates (3) electronic or pyrotechnic countermeasures, therefore preventing the target from receiving a hit. Therefore, any risk to troops, especially in the complex scenarios of international deployments, will be significantly reduced.
Working together with EADS on the MUSS project is Krauss-Maffei Wegmann (system integration) and Buck (pyrotechnic countermeasures). EADS Defence Electronics is responsible for warning sensors, central computers and electronic countermeasures.
The MUSS warning sensors are based on a UV missile warning sensor and a laser warner. Both are extremely compact, and combining them in a single device means that integration into the turret of the Puma can be achieved quite simply. As a result, it is also much easier to retrofit old vehicles. The missile warner was specially designed for use in ground vehicles for the detection of anti-tank missiles. It is based on the MILDS missile warning system for helicopters and aircraft which is tried and tested throughout the world. MUSS has demonstrated its effectiveness against various different threats during extensive tests, including testing on board the Leopard 2 main battle tank.
Sergyi Way
18.08.2006


www.army-guide.com
Share...




MUSS (Optronic countermeasure system)
Discuss