Russia's Arms Export Scope Keeps Increasing
Category: Defence Industry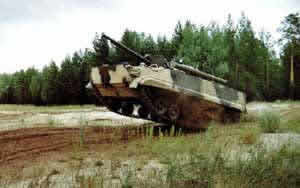 According to the preliminary results of Russia's defence export efforts during the year 2004, the total scope of defence export amounted to $5.6-5.7 billion, which shows an increase by 200-300 million if compared with the year 2003.
This progress was achieved due to enlargement of the markets in North Africa and on the Arabian peninsula. It is worth while mentioning that the afore-mentioned high results were achieved despite the gradual exhaustion of the Soviet technological margin.
In general, in 2004 the structure of defence export was traditional as to its nomenclature and geography.
As in the previous years, almost half of the export consisted of supplies of aviation-related weapons and equipment. In so doing, the lion's share of this consisted in deliveries of Su-30 series aircraft.
The largest supplies in the naval armament field included the hand-over of a submarine under the contract signed in 2002, which envisaged deliveries of a total of 8 submarines to China, and supply of a new frigate to India and a hovering craft to Greece.
In 2004, four battalions of S-300PMU1 air defence systems were handed over to China.
The exported land weapons systems included 17 BMP-3 infantry fighting vehicles and anti-tank missile systems supplied to South Korea and a batch of 50 BMP-2 infantry fighting vehicles supplied to Yemen (under a contract envisaging supply of 180 BMP-2s). The same year saw completion of the contract for supply of 310 T-90S tanks to India.
China and India still remain the main buyers of Russian weapons. More or less large supplies were carried out to Greece, Vietnam, Yemen and Sudan.
90% of the Russia's defence export was carried out by the State-owned Enterprise Rosoboronexport. Apart from it, weapons were exported by the Tula Instrument Design Bureau (mostly Kornet-E anti-tank missile systems) and some other specialised enterprises.
In 2004, the Rosoboronexport signed a number of contracts for a total amount of $5.5 billion. As a result, this company's portfolio of defence-related orders amounted to $12 billion.
Sergyi Wey
12.01.2005


www.army-guide.com
Share...




Discuss
Records 1 to 5 of 5
Post

romain
14:32 27.06.2006


There is nothing good in the fact that this agressive country expands its arms export.

Misima
13:40 30.06.2006


Russian defence export will always be on the world's agenda, although it does aggravate the situation. The Russians will always lord it over many small countries as to the latter's defence budjet.

observateur
10:04 04.07.2006


La Russie fabrique beaucoup d'arms, mais la qualite n'est pas la meilleure.

Picot
14:09 07.07.2006


Augmentation de la production des armes russes, c'est un mythe.

Miles Teg
22:20 07.07.2006


South Korea isn't exactly a small country. The BMP-3 is actually rated as one of the top infantry fighting vehicles in the world, displaying very impressive results in tests done against other IFV's. It is also the only IFV in the world that I am aware of that combines a large caliber cannon (100mm) with a 30mm auto-cannon. This along with its ATGM capability gives it extremely high firepower and the ability to handle a wide variety of threats and missions. When uparmored, it can also effectively be protected against RPG threats. I'm actually surprised that more BMP-3's haven't been sold.

As for the older stuff...well its cheap and for most 3rd world conflicts stuff like the older BMP-2's do the job just fine and are very inexpensive.

Miles Teg